A friendly match between host team Karbi Anglong Morning Star FC and Asaduzzaman FC, Bangladesh will be played on November 8 at the newly constructed Karbi Anglong Sports Association (KASA) football stadium at Diphu of Karbi Anglong district in Assam.
Announcing this chief executive member (CEM), Karbi Anglong Autonomous Council (KAAC) and president of Karbi Anglong Sports Association (KASA), Tuliram Ronghang said that international footballer from Sikkim Baichung Bhutia will attend the event.
CEM Ronghang said, "The KASA is going to organize a test event at the newly constructed football stadium of KASA on November 8, that is on Thursday.
"The friendly match will be played between Karbi Anglong Morning Star FC and Asaduzzaman FC from Bangladesh. The kick off time is 7 pm, but gate will be opened from 3 pm. Besides the football friendly match there will be cultural events by various ethnic tribes of the district and others. We have invited former international footballer from Sikkim Baichung Bhutia," he said.
"We are developing sports infrastructure as we want to promote sports among the youths. We want to introduce Karbi Anglong to the outside world through sports and for that we seek the support of all," he added.
He also highlighted various sports events to be conducted at KASA. In second week of December inter-state badminton championship will be held and in January next inter-district badminton championship will be organized along with others.
Ronghang also announced that under Central government's financial package another stadium will be constructed at Hanjanglangso.
The Chutianala Sports Complex on Diphu-Manja road will be a cricket stadium. The CEM also said all development schemes should be completed on time and those contractors not completing works on due time action will be taken against them.
Detailing the event general secretary, KASA, Pankaj Teron said, "There will be four gates. We are charging nominal amount for tickets. For VIP entry it is Rs 1000, and for the gallery it is Rs 100 and there is student concession of Rs 50."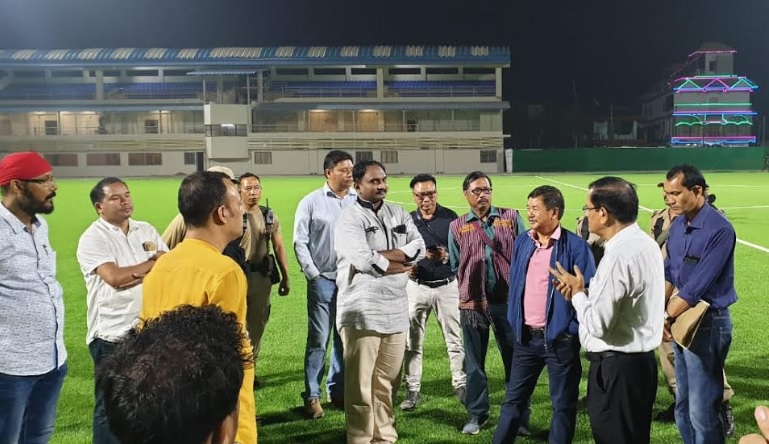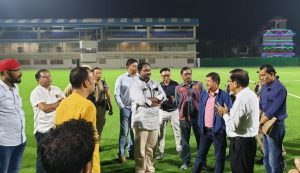 "No tobacco and tobacco products including cigarettes and pan masala will be allowed inside the stadium and will be strictly enforced. Sharp weapons like knives will not be allowed to inside the gallery," he added.
The stadium has a capacity of 9000 seats, Teron further said.
Tickets will be available till the morning of November 8. KASA will also allot tickets to its sub-associations.
President of Karbi Anglong Morning Star FC, Sengkan Ronghang and KASA officials were also present at the press conference.