While highlighting the crucial role of women in building a strong society, Assam Chief Minister Sarbananda Sonowal on Monday said women must realise their immense potential and they must play their part in taking the State towards high growth trajectory.
Chief Minister Sonowal said this while speaking as the chief guest at Mahila Samaroh organised by Panchayat and Rural Development Department and Assam State Rural Livelihood Mission at Sarbhog Mini Stadium in Sarbhog under Barpeta district.
Saying that Prime Minister Narendra Modi has taken a lot of steps for the development of the women, Sonowal urged the women of the State to take advantage of the schemes like Kanaklata Mahila Sabalikaran Achoni (KMSA) launched by the State Government to become economically independent.
He also said that by properly utilising the Rs 25000 revolving fund provided to the women Self Help Groups (SHGs) under KMSA, the SHGs can receive fund up to 5 lakh by which they can make meaningful contribution in the State's economy.
Sonowal also announced that three best performing SHGs would be awarded first, second, third prize which would carry cash prize of Rs 5 lakh, Rs 3 lakh and Rs 2 lakh and members of these SHGs would also be provided the opportunity to travel abroad for acquiring skills.
Stating that there is a big market within the State itself for different products, the CM urged the women entrepreneurs to strive for capturing the State's market with their products. Referring to the scams of earlier State Government like 9 lakh ghost children in Social Welfare Department's beneficiary list, 4.5 lakh fake job card holders under MGNREGA scheme etc., Sonowal said that present Government has been able to eliminate corrupt practices from the administrative system and provide clean governance.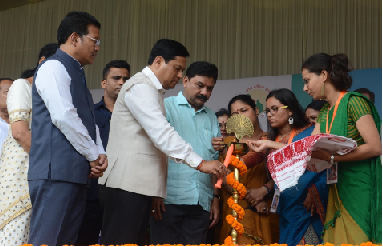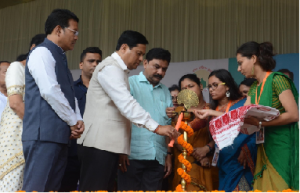 Saying that both the Central and State Governments have taken a lot of initiatives for equal development of all sections of the society, Sonowal stated that construction of 24 lakh toilets in the state within last two years, free text books to students, skill development etc are some of highlights of the present government. He also referenced ambitious schemes like 'Beti Bachao, Beti Padhao' of the Central Government for ensuring growth of the girl child in all spheres.
Urging the people to keep their faith on the Government, the CM said that State Government is committed to safeguard the interests of all indigenous people of the State and no doubt should be there about the Government's intentions in this regard. He also called on the women to play their part in maintaining peace and harmony in the society so that the young generation can be given a healthy environment for growth.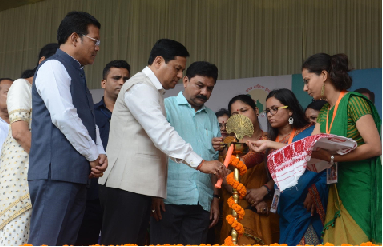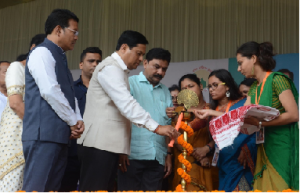 A total of 21 SHGs under Kokrajhar Lok Sabha constituency were presented cheques of Rs 25000 each by the CM in Monday's programme. Notably, 7429 SHGs from the districts of Kokrahjar, Chirang, Baksa, Bongaigaon and Barpeta under the Kokrajhar Lok Sabha constituency have been provided fund of Rs 25000 for a total amount Rs 11.46 crore under KMSA scheme.
Minister for P&RD Naba Kumar Doley, Housefed chairman and local MLA of Sarbhog Ranjeet Kumar Dass, GMC Deputy Mayor Bijulee Kalita Medhi also spoke in the programme which was attended by MD ASRLM Nandita Hazarika, Assam State Social Welfare Board chairman Krishna Das, Sports Authority of Assam vice chairman Queen Ojha, Assam State Women Commission vice chairman Hemaprabha Borthakur among others.