A vehicle of Guwahati-based Assamese actor and singer Deeplina Deka's musical troupe was attacked by miscreants in Dibrugarh on Wednesday night after it collided with a local youth's vehicle at Balijan, Chabua in Upper Assam's Dibrugarh district.
Police said actor-singer Deka's vehicle was not attacked by anyone as reported and turned down it to be a rumour.
According to information, an altercation took place between a musical troupe of the singer and some youths of Chabua last night when the vehicle of the musical troupe collided with the vehicle of Rituranjan Phukan, a local youth at Balijan, Chabua in Dibrugarh.
The Guwahati-based musical troupe was going to perform in a Rongali Bihu function at Bindhakata in Chabua.
The musical troupe came with actor-singer Deeplina of Guwahati to perform at the Bihu function. But Deeplina already reached at the venue and was waiting for the troupe.
Assam chief minister Sarbananda Sonowal's maternal house is few kilometres away from the incident site.
CM Sonowal was invited as the chief guest in the Bihu function. Sonowal inaugurated the Bihu function in the evening.
Officer-in-charge of Chabua police station, Gaura Jyoti Chetia said, "Last night around 12 pm, the vehicle of Guwhati-based musical troupe was coming to Bindhakata, Chabua to perform in a Bihu function. Suddenly, on the way, the vehicle collided with the vehicle of Rituranjan Phukan, a local youth of Chabua. After that some locals of that area chased the vehicle of the musical troupe up to the function venue and an altercation started between them and suddenly a youth from the group with his helmet trashed the back glass of the musical troupe's vehicle. Police immediately controlled the situation and the youth was taken into police custody."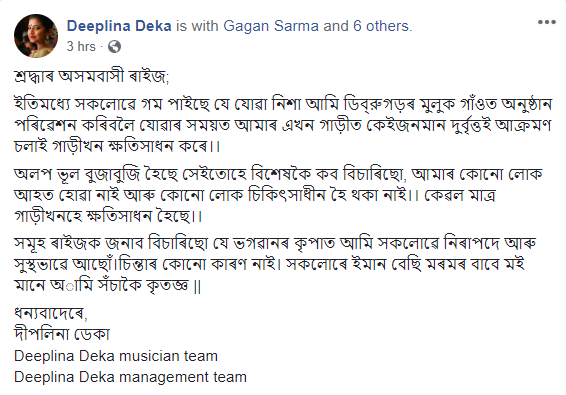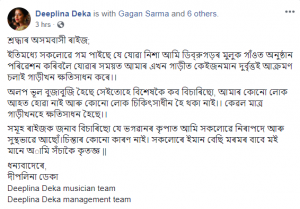 Chetia said Rituranjan Chetia received minor injuries and is undergoing treatment at Assam Medical College and Hospital (AMCH) in Dibrugarh.
"Some have spread the news that the vehicle of Deeplina Deka was attacked by some unidentified miscreants but nothing has happened like that. It was just a rumour," said officer-in-charge of Chabua police station.
In a Facebook post on Thursday, singer Deka made it clear that none of her musical troupe members was injured in the incident. However, a vehicle of her musical troupe was damaged after it was attacked by some miscreants, she stated in her FB post.