Tripura's 'Queen' variety of pineapples are all set to hit the markets of other major cities of India as well as Middle East countries.
Tripura Horticulture Corporation Limited (THCL) signed a memorandum of understanding (MoU) with Spicejet Merchandaise Pvt Ltd on Friday to boost the export of pineapple from the state.
The MoU was signed during a seminar on processing and marketing of horticultural produce of Tripura with a focus on pineapple.
Recently the new government led by Chief Minister Biplab Kumar Deb decided to export Tripura's sweet pineapples not only in the domestic but also the international markets for the benefit of local farmers.
Keeping the queen variety of pineapple in focus, a high level seminar on processing and marketing horticulture produce was held at Pragna Bhawan on Friday.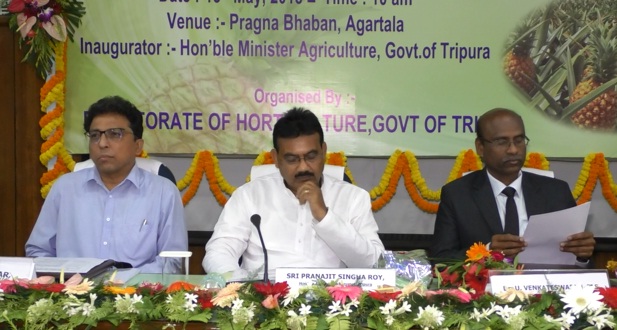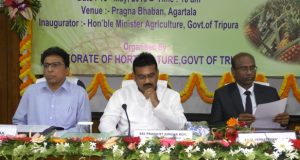 State Agriculture and Tourism Minister Pranajit Singha Roy inaugurated the programme in presence of other officials.
Roy said, "Had there been the market, the farmers would not have moved away from pineapple cultivation. We have taken this initiative to encourage the pineapple farmers who produce more than 1.3 lakh MT of the fruit. Everyone outside the state can taste the Queen and Kue varieties of pineapples of Tripura. We have taken this initiative in war footing manner so that farmers never say that they do not want to produce pineapple. "
Skilled professionals from the packaging industries, experts from the horticulture industries, exporters who shall carry the products to international markets attended the seminar to discuss about cultivation, demands, marketing and export of the organic pineapples of the state.
According to an estimate more than 1 lakh MT of 'Queen' and 'Kue' pineapples are produced in Tripura annually but due to lack of proper marketing has badly hit the farmers.
In Tripura, pineapple is one of the major fruit crops in terms of area and as per the statistics productivity of pineapple per hectare is 18.73 tonnes, which is higher than the national average of 15.80 tonnes.
In absence of export and proper market price, farmers are shifting from pineapple to rubber production which seems to be more profitable.