Krishak Mukti Sangram Samiti (KMSS) leader Akhil Gogoi has alleged 'Jatiya Nayak' Sarbananda Sonowal-led Assam Government is being run from Delhi and Nagpur.
While addressing a mass rally against the Citizenship (Amendment) Bill, 2016, farmer leader and noted RTI activist Gogoi also alleged, "Prime Minister Narendra Modi asserted before the Assam Assembly elections that the illegal foreigners would have to leave with bag and baggage from the State within May 16, but now his Government is planning to give shelter to 1.90 crore Hindu (Bangladeshi) foreigners."
The mass rally, joined by more than 20 organizations, was  held at Amguri Aauniatia Hem Chandra Dev HS School playground in Sivasagar recently.
Gogoi stated, "The Union Government has already directed the State Governments to arrange necessary measures for  procurement of land in anywhere in India, to open bank accounts, provide Aadhaar cards and employment for people belonging to six religions hailing from  foreign countries. But at the same time, the Government is yet to provide land patta  to the people of  tea tribes, Adivasis, who came to Assam 200 years ago or the indigenous  people of Assam, who have no land."
The KMSS leader also said, "Due to such reasons, the people of Assam have spontaneously come out to the streets in protest against the Citizenship (Amendment) Bill."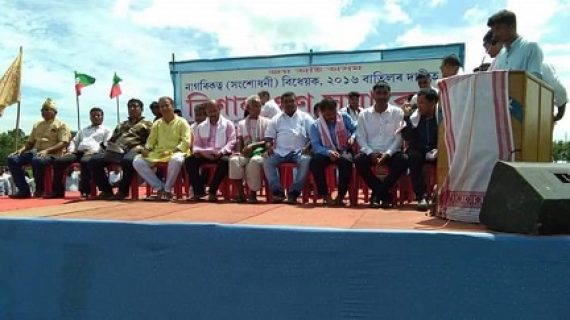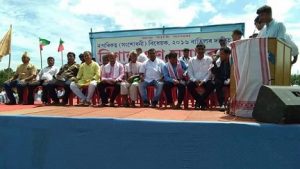 The public meeting was chaired by Dibyajyoti Das, president, Asom Jatiyatabadi Yuva Chatra Parishad (AJYCP), Sivasagar District Committee while KMSS leader Lochan Shyam Gohain explained the objective.
The dignitaries who attended the meeting included Angkuran Phukan of Ahom Sena, Hemanta Changmai of Tai Ahom Yuva Parishad, Mohendra Dihingia of Ahom Jatiya Gana Mancha, Dhirendra Chetia of KMSS, Palash Changmai of AJYCP, Minirul Islam Borah of Ujani Asom Muslim Kalyan Parishad, Prabin Das of Scheduled Caste Students' Union, Nitul Borgohain of AATASU, Dhaijya Konwar of KMSS, Muruli Tanti of Chatra Mukti  Sangram Samiti.
All the speakers strongly protested against the Citizenship(Amendment) Bill. At the same way, the speakers also expressed strong resentment at the eviction notice served against the Kaziranga National Orchid Park.
The leaders representative various organisations said, "If necessary, the people of Assam will collect money door-to-door for purchase of the said land where the orchid park. The meeting was anchored by Dulal Kalita. Later, a protest rally was also taken out throughout the Amguri town by shouting slogans.