A British artist Lata Upadhyaya who originally hails from Assam has showcased her beautiful art on a common Indian truck.
The artwork which showcases the contribution of migrants to the British society was inspired by "moving art on Indian highways".
Visual artist Lata Upadhyaya started working on her white transport van a few months ago. The work is mix of Indian art forms, Chinese motifs, and European designs.
The truck art was first showcased at the Firstsite, a leading contemporary art gallery (and part of the Tate Plus network of galleries near London).
The van is now travelling across England, and is scheduled to move from Harlow to Birmingham and Nottingham.
The truck art which is named 'Transit: The Identity of a White Van' has received a phenomenal response which has resulted in Upadhyaya's exhibition calendar booked for two years.
Arts Council England, which has supported Upadhyaya in developing her work over the last five years had commissioned the work.
"I have used my white van, a very common goods transporter in these parts, to reflect the role and contribution that migrants have made to the British society," informed Upadhyaya, 46, to Rahul Karmakar from London.
Daughter of Nandlal Upadhyaya — a pioneer of Assam's dairy cooperative movement, Upadhyaya is from Jagiroad, about 60 km east of Guwahati.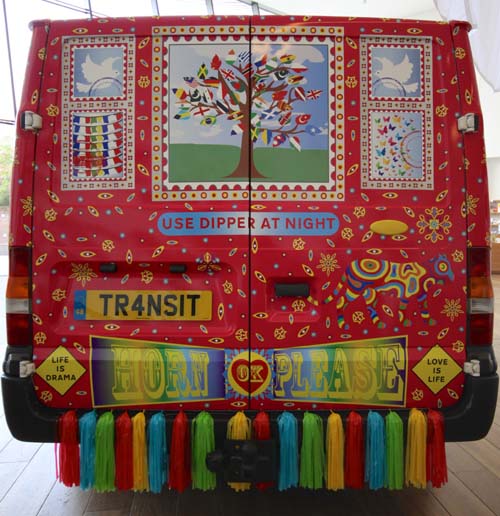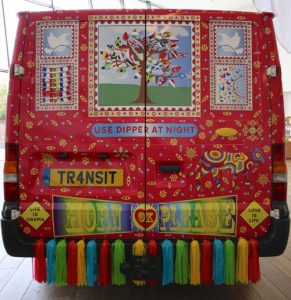 "My work reflects upon my own life and experience of migrating from the East to the West. Transit brings together my origins in India and my life in Britain; the white van represented a blank canvas, a British symbol as well as a lack of identity. I wanted the white van to take on a new British identity, one that represents all of the people that live here, all the different communities and celebrates what being British and living in Britain means," she said.
According to Firstsite director Sally Shaw, Upadhyaya's installation "builds upon the gallery's ongoing examination of identity". In decorating the ubiquitous white transit van in the manner of Indian truck art, while also mixing in various other national symbols, such as the Chinese dragon, "Lata has metamorphosed a functional vehicle into an artwork that reflects the cultural vibrancy of contemporary Britain," she said. reports The Hindu.
A specialist in contemporary sculpture with a Masters from the Slade School of Fine Art in London, she is also known for her 2016 project called '6,919 km: the Journey of a Rickshaw'.
She had transformed a white transport van with brightly-coloured depictions of Indian and U.K. culture to celebrate its journey from Meerut in Uttar Pradesh to the U.K.
"The truck art is doing the gallery rounds and is also being driven about," she said.