In a revelation of misery and unfair treatment, a Facebook post by an Assam police constable exposed the agonizing hardship he and his collegues are, allegedly, facing while being posted in Silchar and Hojai for election duty.
The post which has gone viral presents a number of pictures exposing the absolutely disgraceful condition the security personnel, deployed in the areas, have been made to stay in, according to a report by Pratidin Time.
One look at the photos is proof of the dingy and unhygienic accommodation the police forces have been provided with.
Having to sleep on the floor next to a dirty puddle of water; given the option of a few damp, shabby mattresses or no mattress at all to lie on, staying in a gloomy place surrounded by clogged water and mud everywhere, the post raises questions on the kind of respect our jawans are shown in return of the commendable service they are offering.
Also read: Assam police recover lifted car in record 57 minutes!
"Aren't those who are posted for election duty human beings?" reads the bitter remark the police constable wrote in the post.
The constable further wrote, in Assamese, that "one should see the condition the jawans are in in Silchar".
The constable lamented that it is because of the terrible administration of Silchar, the jawans have been made to stay in such a pathetic condition during election duty. The constable further talked about the unlivable condition of the accommodation, due to the place being filled with rain water clogging.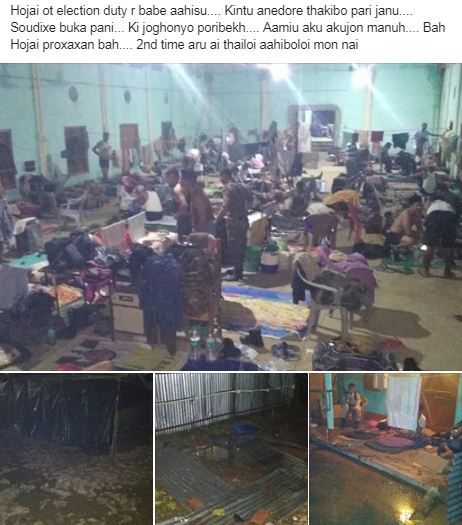 The post also shows pictures of accommodations given to the police force in Hojai posted for election duty.
The post reads, "Hojai ot election duty r babe aahisu…. Kintu anedore thakibo pari janu…. Soudixe buka pani…. Ki joghonyo poribekh…. Aamiu aku akujon manuh…. Bah Hojai proxaxan bah…. 2nd time aru ai thailoi aahiboloi mon nai" (Have  come to Hojai for election duty but is it possible to live in such a condition? There's mud water everywhere… Such a terrible environment… we are human beings… Bravo, Hojai administration Bravo! Would never want to come back here again."