Nima and Dawa, the two 15-month-old Bhutanese girls, who earlier remained conjoined from the lower chest to just above the pelvis and shared a liver, left Melbourne's Royal Children's Hospital after they were successfully separated.
In a report published on Monday by South China Morning Post stated that Nima and Dawa were separated during an operation at Melbourne's Royal Children's Hospital on November 9 that lasted for almost six hours.
There had been a major challenge to reconstruct the abdomens of the twins.
The report quoted the grateful mother of the twins, Bhumchu Zangmo, as saying: "Thank you, everyone," as she wheeled her daughters from the hospital where their lives have been transformed since their arrival on October 2.
The report also quoted the hospital's head of paediatric surgery, Dr Joe Crameri, as telling media persons that the twins had made an "excellent recovery" and were acting independently.
Crameri said: "I think to the staff on the wards … they've seen a remarkable two girls, girls that we've watched over this journey who started off really attached and bonded to one another, but ultimately frustrated with one another."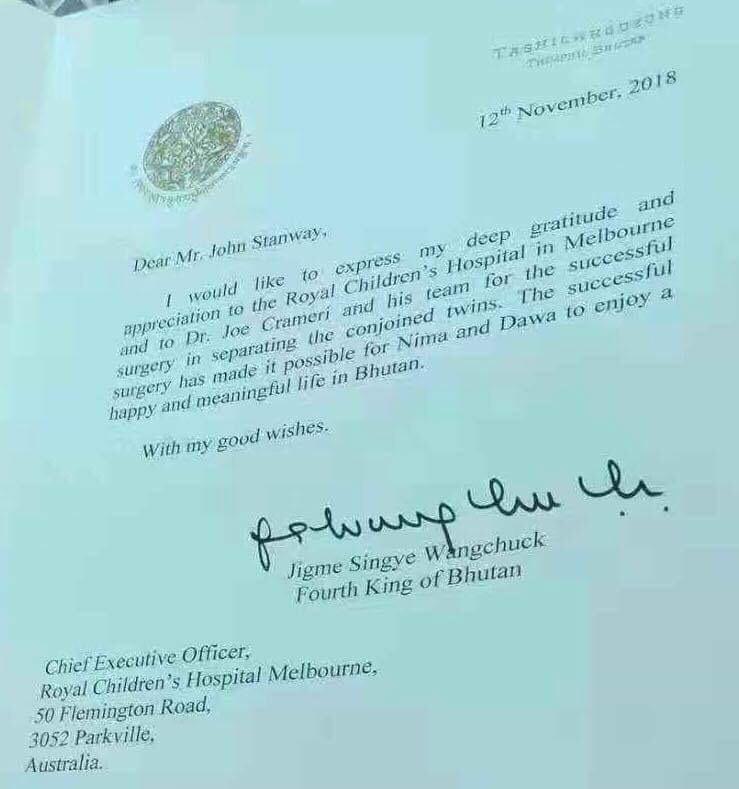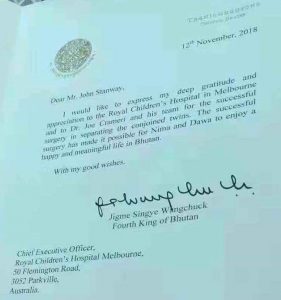 The twins from Bhutan had become "incredibly anxious" after the separation when they became aware that they were no longer in front of each other, said Dr Crameri.
"Over the last couple of weeks, we've seen them gain confidence, we've seen them gain independence, we've seen them gain a lot of strengths," Crameri further said.
It has been reported that before they return to Bhutan, the girls will continue their recovery at a retreat in the town of Kilmore outside Melbourne run by the charity that brought them to Australia, the Children First Foundation.
After their separation in the hospital, the Fourth King of Bhutan, Jigme Singye Wangchuk, wrote an appreciation letter to Hospital CEO John Stanway where he expressed his "deep gratitude and appreciation to the Royal Children's Hospital in Melbourne and to Dr Joe Crameri and his team for the successful surgery in separating the conjoined twins. The successful surgery has made it possible for Nima and Dawa to enjoy a happy and meaningful life in Bhutan".