A government teacher from Mizoram has donated more than half of her salary to hire extra four teachers, doled out money to buy school supplies and spent thousands of her own money to develop the school building.
Meet Rochami, a 50-year-old headmistress working at Rev. Thianga Govt Primary School at Bethlehem Vengthlang locality in Aizawl, this philanthropist teacher has already doled out about one lakh rupees for the development of the Government Primary School she worked for, not to mention the four substitute teachers she hired from her own salary.
"I want to change the general perception that government run schools are not as good as the private English medium schools, I want to prove that government schools can also give quality education, and at a minimal cost," said Rochami.
Decades ago, young Rochami started working at this very school as a contractual basis teacher. After her job was regularized, she was then transferred to different schools across Mizoram. In February, 2018 she was transferred back to the school she started her teaching journey.
"With due respect to my fellow teachers working here, I have to say that the condition of the school when I joined was in a very bad shape, windows were broken, school compound looked like a dumping ground, toilet were filthy and last academic session there were just five students studying here," Rochami said.
Before she was transferred to her present posting, Rochami worked at Darlawng village, about 50 kilometres from Aizawl. She was then diagnosed with thyroid problem which had infected her voice box making her partly dumb and had to undergo operation and treatment for more than half a year. Even while on medical leave, she hired one substitute teacher for the school.
"I have no child, so for me, the children of the school are like my own kids; my husband has been supportive and so are my siblings. On seeing my interest in developing the school I am working in, my youngest brother has helped me out with Rs 30,000," Rochami said.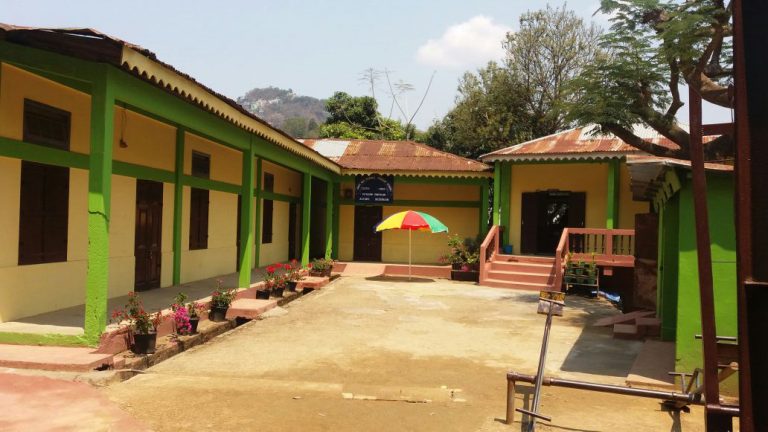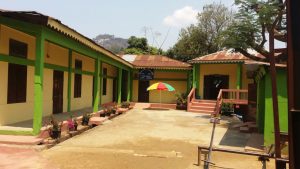 Her husband, who drives and manages his own taxi expects nothing much from his wife. "The school is her only child. Mothers would give anything to their children and I believe my wife is doing the same," he said nodding.
"For each substitute teacher, I give Rs 6000, so it adds up to Rs 24,000 a month. I still get half of my salary and my husband is also earning from his own end. It feels good to see the school developing and a sense of one's accomplishment gives employment to others," Rochami said.
Right from the day she started taking over the school, major overhauling has been going on. The school is being whitewashed, toilets cleaned, walls of the school painted which featured famous cartoon characters to attract students, mid-day meal re-organised. So moved was the sub-divisional education officer of the block who posted several pictures of the works undertaken by this teacher on a social media network hailing her initiatives.
"I checked the school's previous annual register and found that there were just five students, I went on a student hunting spree and visited each and every house of the locality. I have given assurances the parents of the locality that the school will see major restructuring, I have made a promise, I have to give it to them," said a determined Rochami.
The philanthropist teacher's selfless investment has paid off. Now, the school is in the fifth day of the present academic session, where 63 students have already enrolled. "It's only the beginning, there are so many things that have to be done, only today I got a phone call that we will get three more students on the next working day," Rochami said.
Despite huge efforts being given by the Centre to improve the government run schools in the country, enrolment of students is comparatively low to private run schools. In Mizoram also, many government run schools are on the verge closing down due to low students enrolments.
Parents prefer sending their children to private schools even though it costs them a lot annually. A bold and selfless move like Rochami and her campaign will only change the mindset of people towards government schools, a lesson the rest on the country should learn from.