A 'fake news' of major proportion that had started brewing on the social media on Friday via several prominent news media houses got nipped in the bud within two hours of its development, before it could escalate any further.
Seemingly, the victim of the trend of fake news this time was none other than Tripura chief minister Biplab Kumar Deb.
A report that, purportedly, was carried by CNN-News 18 stated that Deb's wife Niti Deb has filed for divorce in Tis Hazari Court in Delhi and has alleged the chief minister of harassment and domestic violence.
The origin of where the piece of information is yet to be known.
Shortly after, the account spread like wildfire and carried by a string of news portals. As one would expect, aided by the lightening fast Internet, the news started breaking through and reaching readers and before long, reached the CM's wife itself who was quick to respond on the narrative which is when it assumed an new character – of being a giant rumour.
Niti Deb lost no time to use the social media and write a Facebook post clarifying that the whole report is a hoax.
Sharing several screenshots of the 'rumoured' news, published by various news portals and publications, of Deb filing a divorce case in Tis Hazari court and accusing the CM of domestic violence, Niti, in her post, condemned the rumour mongers. She said their sole aim is to generate 'cheap publicity and mileage'.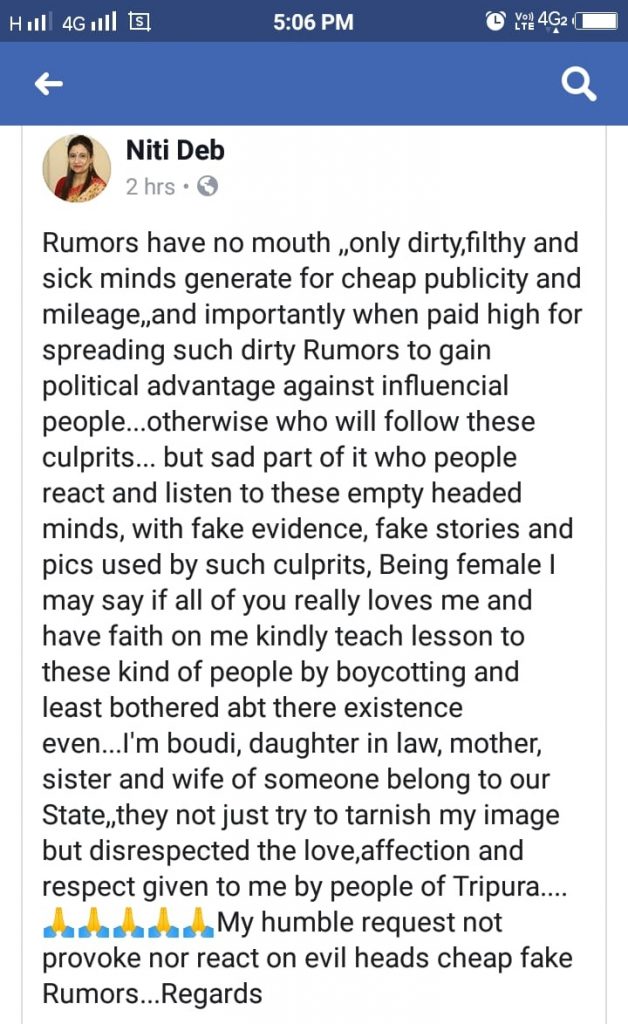 She said those who spread such rumours are highly paid and they do so to gain 'political advantage against influential people'.
Niti Deb pleaded to her followers to teach 'these kind of people a lesson by boycotting them and be least bothered about their existence'.
She condemned the rumour-mongerers for 'tarnishing her image' and also stated 'that her love is unconditional and pure and doesn't require explanation'.