A training programme on Assam Right to Public Services (ARTPS) Act, 2012 was held at Hotel Land Mark in Haflong of Dima Hasao district of Assam.
This was organized by Assam Rural Infrastructure and Agricultural Services Society (ARIAS) in collaboration with N C Hills Autonomous Council, Haflong, under Assam Citizen Centric services Delivery Project (ACCSDP).
The programme was held on an overview of the ACCSD Project, Tribal Development Plan (TDP), Orientation on ARTP Act Rules 2012 and discussions on the participation, modalities on TDP scheduled to be held on April 12 at Guwahati by Piyananda S Wahengbam, BPR & IT Specialist, ACCSDP; Arpana Barman, Social Sector Management Specialist and Fakhruddin Ahmed, ACS (Rtd) Sr Advisor, ACCSDP in presence of Naresh Ghosh, Principal Secretary, N C Hills Autonomous Council with a day-long programme.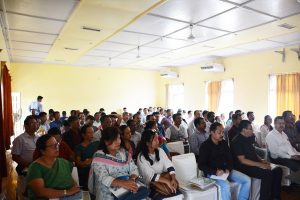 The objective of the programme was to create awareness and educate the government employees about the Assam Right to Public Services Act,2012 which is to be implemented throughout the  state of Assam including  three six scheduled  areas under autonomous District Council,  which is for elimination of grievances to eligible persons (applicants) imposing stipulated time limit for execution of works to government servant by the Appellate  Authority and on the contrary, it has the  provision of rewarding penalty towards the government servant.
The training programme was also attended by T T Daulagupu, L Z Nampui and M J Thaosen, Secretary, N C Hills Autonomous Council Haflong along with the officials from various entrusted departments and council departments under normal sector.