As part of the continued protest programmes being organised in various parts of the Bodoland Territorial Areas District (BTAD) demanding land rights for the non-tribals living in BTAD, around 8,000 people participated in a protest rally in Udalguri on Wednesday.
The protestors marched from Bapuji Prakalpa and proceeded throughout Mazbat town in Udalguri shouting slogans demanding equal land rights for the non-tribals.
The protestors on Wednesday demanded the Bodoland Territorial Council (BTC) authorities to rethink about the BTC Cabinet's recent decision to allegedly curtail land rights of the non-tribals living in the region.
The protest rally was taken out under the aegis of the Assam Tea Tribes Students' Association (ATTSA), Mazbat in co-ordination with local units of All Adivasi Students' Association of Assam  (AASAA), All Assam Students' Union (AASU), All Assam Gorkha Students' Union (AAGSU),  All Koch-Rajbongshi Students' Union (AKRSU), All Rabha Students' Union (ARSU), Asom Jatiyatabadi Yuva Chatra Parishad (AJYCP), All Assam Minority Students' Union (AAMSU) and Kalita Janagosthi.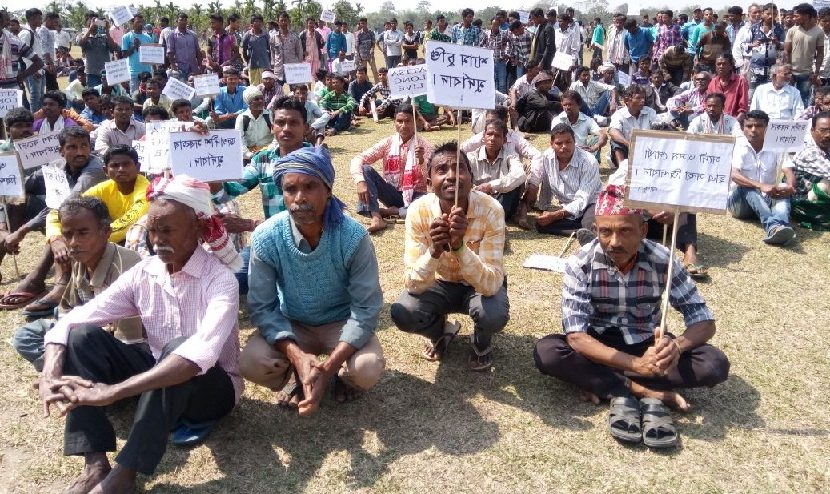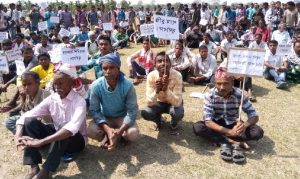 During the protest rally, thousands of protestors shouted high-pitched slogans like 'BPF go back', 'We want our land' , 'Dissolve BTC' and holding banners stating 'Down with Hagrama', 'No conspiracy with New Land law, etc. The massive rally culminated at Rajiv Gandhi Mini Stadium in Mazbat.
A protest meet was also held at the end of the rally which was addressed AASAA President Melkhas Toppo, Oboro Suraksha Samiti Secretary Jogeshwar Kalita among other local AAGSU leaders.
The protestors also handed over a memorandum to Mazbat Revenue Circle Officer Dhritiman Das addressed to Assam Governor Jagdish Mukhi and Chief Minister Sarbananda Sonowal.
The memorandum stated that in the tribal belts and blocks  the land rights of the backward and protected indigenous people  such as tea tribe, Santhals, Koch-Rajbongshis, Nath-Yogis, Gorkhas among others are secured but the BTC Cabinet has considered them as non-tribals in the BTC region depriving them of their land rights.
The memorandum also termed the BTC Cabinet's move as a 'conspiracy to wipe out the non-tribals' from the BTAD region and sought intervention of the State government for securing the economic and social rights of the non-tribal communities in BTAD by giving equal land rights to all.