Former Arunachal Pradesh Chief Minister and Congress MLA Nabam Tuki has appealed to Prime Minister Narendra Modi to postpone the inauguration of the Bogibeel rail-cum-road bridge on river Brahmaputra in Assam to any other date apart from December 25.
The 4.94-km-long longest rail-cum-road bridge of the country is all set to be inaugurated by Prime Minister Narendra Modi on December 25, 2018, which also happens to be Christmas Day.
The Centre has already marked December 25, the birth anniversary of former Prime Minister Atal Bihari Vajpayee, as Good Governance Day.
Also read: Assam: It's official…Prime Minister to inaugurate Bogibeel Bridge on Dec 25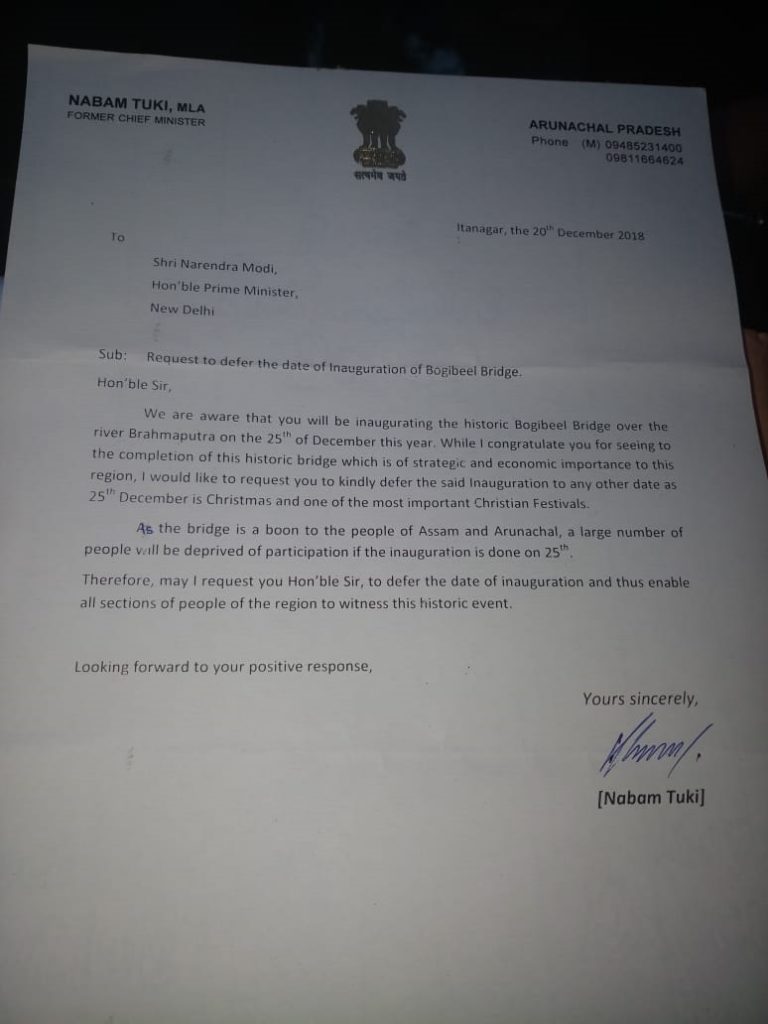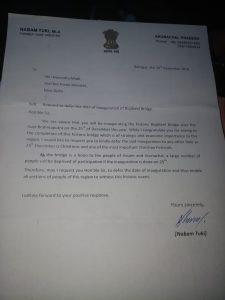 Tuki in a letter addressed to Prime Minister Modi on Thursday wrote: "We are aware that you will be inaugurating the historic Bogibeel Bridge over the river Brahmaputra on the 25th of December this year. While I congratulate you for seeing to the completion of this historic bridge which is of strategic and economic importance to the region, I would at the same time like to request you to kindly defer the said inauguration to any other date as December 25 is Christmas and one of the most important festivals of the Christians."
"As the bridge is a boon to the people of Assam and Arunachal, a large number of people will be deprived of participation if the inauguration is done on the 25th. Therefore, I request you (Modi), to defer the date of inauguration and thus enable all sections of people of the region to witness the historic event," the letter added.
Once inaugurated, Bogibeel Bridge will be the longest rail-cum-road bridge in the country and the second longest in Asia.
Besides boosting connectivity for around five million people residing in Upper Assam and Arunachal Pradesh, the bridge will also be crucial for the economic development of the region. It will also strengthen the security scenario of the country.