Assam Chief Minister Sarbananda Sonowal said that the State Government is in its toes to convince the 10 South East Asian nations to set up their consulates in Guwahati. The Chief Minister said this while taking part as Chief Guest in the platinum jubilee celebration of Nowgong College at Nagaon on Tuesday.
Chief Minister Sonowal informed that the State Government is in constant touch with the Ministry of External Affairs to convey State Government's keen interest in developing strategic relations with the South East Asian nations.
He said that the immense opportunities thrown open by the Centre's Act East Policy would pay rich dividends to the development of Assam as well as other northeastern States if consulates of respective South East Asian countries are set up in Guwahati.
Referring to the geographic proximity of Assam and other South East Asian nations, Chief Minister Sonowal reiterated that communication is a key to development and therefore the State Government is working hard to build a strong network of road, air, water and internet connectivity.
Stating that population of ten South East Asian nations and other northeastern States taken together makes a huge market, he said that strong relations and constant interaction between north eastern states and other South East Asian nations would auger well for the success of the Act East Policy.
Remembering the unparallel contributions of the personalities like Motiram Bora, Haladhar Bhuyan, Lalit Baruah, Mahi Chandra Bora for the transition of Nowgong college, Chief Minister Sonowal said that in the last seven decades, the college has traversed a long distance and transformed itself into a centre of excellence of higher education. He also called upon the teaching as well at student community of the college to take resolute decision to make Nowgong College one of the leading colleges in the country.
He also said education is the most important tool through which a nation marches forward to success. He therefore, urged the larger fraternity of Nowgaon College to take the role of a precursor and lead the state's march towards prosperity.
He also called upon the student fraternity to work hard to reach the zenith of success. He also asked them to be honest and peruse their life journey through the path of honesty, transparency and objectivity.
Expressing his gratitude to Prime Minister Narendra Modi for initiating a programme like "Beti Bachao, Beti Padao'' Chief Minister Sonowal said that the programme has made an unprecedented impact towards women empowerment. He also said gone are these days when girls were considered as liability. They have now transformed themselves as assets.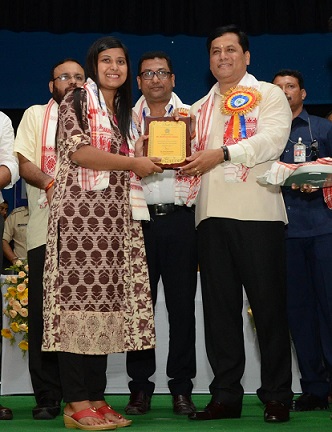 Hailing the recent success achieved by women, Chief Minister Sonowal said that self-confidence, honesty, dedication and determination can take women altogether to a different height and Hima Das is the latest example of that.
Speaking on the unique bio-diversity of the state, Chief Minister Sonowal said that Assam is a land of unique flora and fauna which can also boast of being the hub of organic farming. Stating Prime Minister Narendra Modi's reiteration of converting Assam as well as other northeastern States into an organic hub, Chief Minister Sonowal said that State Government is working on a larger framework to utilize the verdant organic resources of the state judiciously.
He also thanked Nowgong College for starting plantation programme as a core component of the platinum jubilee celebration. He also called upon the larger fraternity of Nowgong College to come forward and help to mould the society against superstition with the help of available technology.
Synchronising with the occasion, Chief Minister Sonowal felicitated three students of the college as recognition to their outstanding results.
Science and Technology Minister Keshab Mahanta, MLA Rupak Sarma, Bimal Bora, Member Secretary of SLAC for students and youth welfare Lakhya Konwar, Principal of the College Dr Sarat Borkotoky and host of other dignitaries were present on the occasion.