In a shocking revelation which could open up a Pandora box in the sensational Neha Sharma death case which is widely reported in media to be an Assamese girl, a native of Merabil in Udalguri district, as per her passport, was actually a Nepali citizen.
There is more than what meets the eye as the locals of Merabil do not identify anybody called Neha Sharma or her parents Pushkar Raj Sharma and Tirath Sharma.
As per the affidavit, submitted by Neha Sharma at Noida in Uttar Pradesh, she left for Israel to get engaged in caregiver's job, when she was 33 years old.
Neha was born on July 16, 1980 and her passport was registered as L637541. Meanwhile Mazbat Circle Officer and Udalguri SP Rajveer Singh have also officially confirmed that no such girl called Neha Sharma ever lived in Merabil and neither any of her family members could be traced here.
They said some relatives might have lived here who moved to Delhi NCR long back.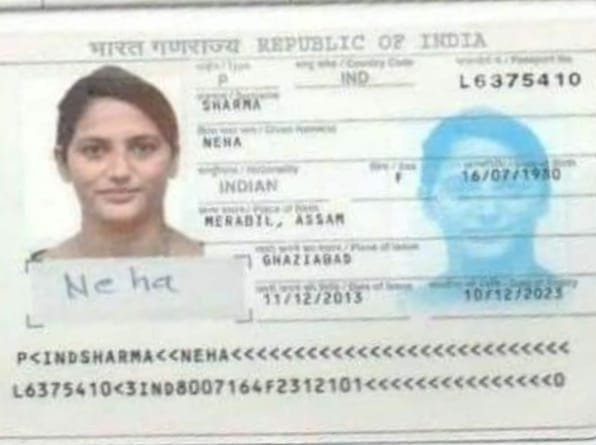 Informing about her death on Facebook on Thursday, the Inspector General of Delhi Police, Robin Hibu stated, "Miss Neha Sharma from Merabil, Assam has died in Isreal at Tel Aviv today".
"Her parent/ relative need to be informed to bring back her dead body," Hibu added.
When Northeast Now enquired the locals of Merabil, if they knew anybody called Neha Sharma or even her parents, they expressed ignorance about it.
However, a source informed Northeast Now that Neha Sharma originally hailed from Nepal. The source also said that Neha used to work at Noida and later shifted to Tel Aviv in Israel.
Now the questions arise, who is Neha Sharma? How did she manage to get birth certificate from local Primary Health Centre here with the help of which her passport was issued?
How was the police verification of her identity done during issue of Indian passport?
According to highly placed sources the Nepali girl, Neha Sharma alias Jamuna Thapa, who originally hailed from Biratnagar, Nepal, had availed Indian passport with a purportedly fake birth certificate issued from Mazbat in Assam's Udalguri district.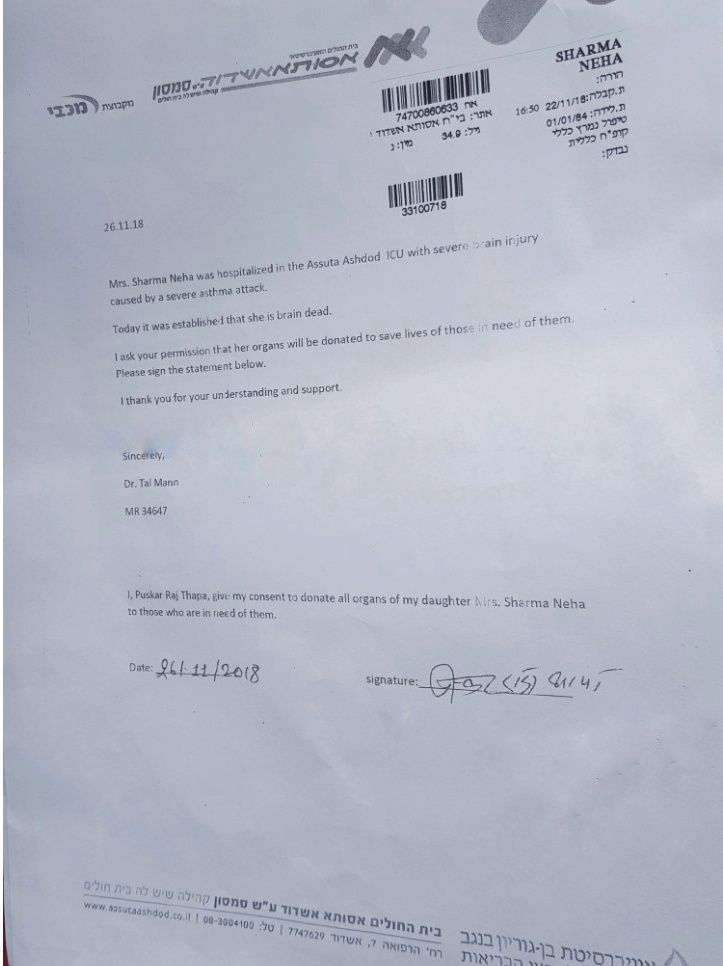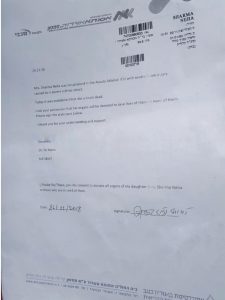 She was rushed in critical condition to Assuta Ashdud Medical Center in the Ramat HaHayal neighbourhood in north Tel Aviv, Israel where she was diagnosed with severe brain injury and asthma and was declared dead at 12 pm on November 26.
According to reports, she was working as a sanitary worker for the past one and a half year and was suffering from Asthma for a long time.
She suffered severe brain damage and as per doctors only three percent of her brain was alive owing to which her close friend Madan Kumar Shivakoti facilitated donation of her organs with approval of her father, who though reads Pushkar Raj Sharma in the passport, his original name is Pushkar Raj Thapa.
The family members of deceased Neha aka Jamuna Thapa continues to be in contact with Shivakoti for bringing back her body to Nepal.
"My daughter is no alive, if her organs could save somebody's life; I would think that my daughter is not dead," a1nepal.com  quoted Neha's father Pushkar Raj as saying.
Neha, who moved to Israel five years back in an Indian passport for employment, had been illegally living in Israel for the past two years.
She was arrested in Israel and spent three months in jail for alleged manipulation of documents and was later released on an appeal by an Israeli court.