All India Congress Committee (AICC) has made it official that K L Chishi and Alemjongshi Longkumer will be contesting the forthcoming Lok Sabha election and by-election to the 26-Aonglenden constituency respectively in Nagaland.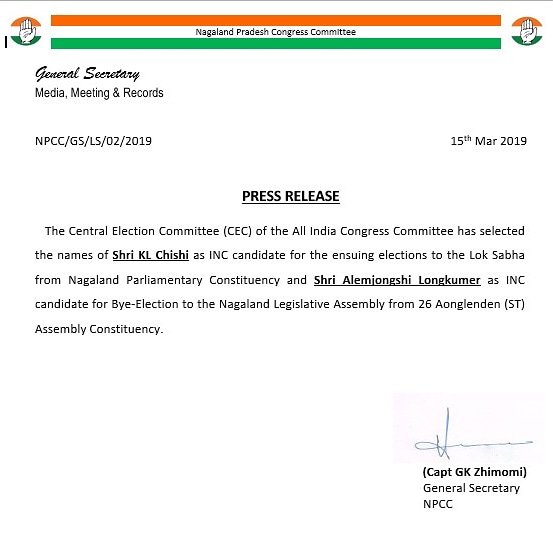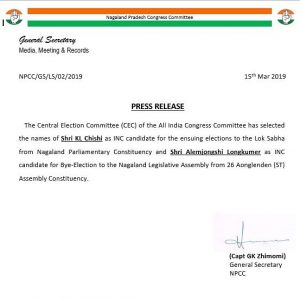 In a statement issued on Friday, the general secretary of Nagaland Pradesh Congress Committee (NPCC), Captain G K Zhimomi informed that the central election committee of the AICC selected K L Chishi as Congress candidate for the ensuing elections to the lone Lok Sabha seat and Alemjongshi as the party's candidate for the by-election to the 26-Aonglenden Assembly constituency.
Notably, former chief minister, K L Chishi, had rejoined the Congress on March 14 after quitting the BJP on March 7 last. Chishi, who joined the BJP before the 2018 state Assembly elections, had lost the February 2018 Assembly election from Atoizu Assembly constituency.
Alemjongshi Longkumer is a former state civil service officer, who resigned as the deputy commissioner of Tuensang.
The battle for Lok Sabha, as of now, will be between two former colleagues – Tokheho Yepthomi (NDPP) as PDA's consensus candidate and K L Chishi of the Congress.
Both Tokheho and Chishi were part of the Congress ministry during the regime of Dr S C Jamir as the chief minister.
The contest for the by-election to the 26-Aonglenden constituency is expected to be a triangular one – among NDPP member and PDA consensus candidate Shiraingan Longkumer, Congress candidate Alemjongshi Longkumer and Independent candidate O Tinujungshi Longkumer, brother of late Imtikumzuk Longkumer, who was the NDPP legislator of 26-Aonglenden Assembly constituency.
Meanwhile, according to reports, the opposition NPF party which has currently 26 MLAs is yet to decide on its candidates for both the Lok Sabha election as well as for the Aonglengden -by poll.