Mizoram reported two more deaths due to Covid19 infection and a total of 807 new positive cases in the last 24 hours.
According to the latest Covid19 bulletin, released by the department of information and public relations, Mizoram, on Tuesday morning, of the new cases, 234 were confirmed during RT-PCR test at Zoram Medical College (ZMC) Hospital
While a total of 63 cases were found positive for Covid19 during TrueNAT test, 510 cases were confirmed during Rapid Antigen Test (RAT).
With the new cases, the Covid19 positive tally increased to 28,295 on Tuesday.
Also read: Mizoram government announces mass screening for Covid19 in Aizawl during complete lockdown
The new cases were confirmed out of the test of 7,436 samples.
More than 150 children and four Border Security Force (BSF) jawans were among the newly-infected people, an official said.
Of the 807 newly infected patients, 443 patients have developed symptoms of COVID-19 and the remaining 364 patients were asymptomatic, the official informed.
The state's positivity rate stands at 10.85%.
Out of the total Covid19 positive cases, registered in Mizoram so far, 15,571 are male and 12,724 are female.
In the last 24 hours, a total of 219 people, who were infected by Covid19, recovered from the disease.
While 79 patients recovered in Aizawl, Lunglei reported 56 recoveries, Kolasib-34, Mamit-32, Champhai-10 Serchhip-5, Saitual-2 and Hnahthial reported 1 recovery from the disease.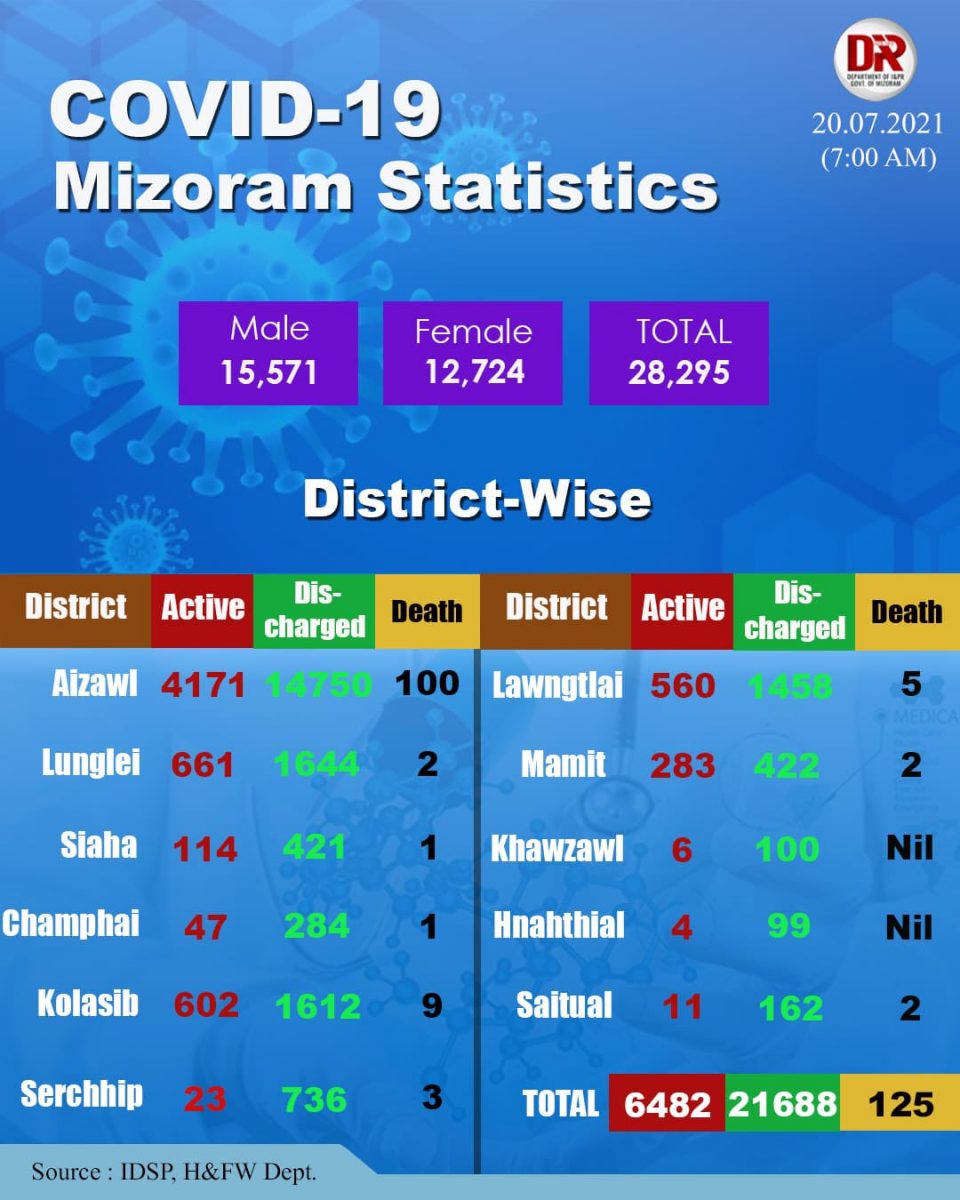 So far, a total of 21,688 people have recovered from the deadly disease.
Mizoram currently has 6,482 active Covid19 cases.
The deadly disease has claimed the lives of 125 people in Mizoram so far.
Of the active Covid19 cases, Aizawl has 4,171 cases, Lunglei – 661, Siaha – 114, Champhai – 47, Kolasib – 602, Serchhip – 23, Lawngtlai – 560, Mamit – 283, Khawzawl – 6, Hnahthial – 4 and Saitual district currently has 11 active cases.
On Monday, one patient died of Covid19 infection and 335 people tested positive.
Mizoram's positivity rate increased to 25.02% on Monday, however, it came down to 10.85 on Tuesday.
A total of 67 children were among the people infected on Monday and all the cases were locally-transmitted.
Of the 335 patients, 288 patients developed symptoms of Covid19 and the remaining 47 patients were asymptomatic.
On Sunday, Mizoram reported one Covid19 death and 463 positive cases.
According to state immunisation officer Dr. Lalzawmi, 6,06,189 lakh people have been inoculated till Monday.