Manipur has started to adopt online payment system for job card holders under Mahatma Gandhi National Rural Employment Guarantee Scheme (MGNREGS).
State nodal officer for MGNREGS Kh Ibochou Singh said this while making a presentation on key issues in implementation of Rural Development programme and preparation of labour budget under MGNREGS.
A day-long training programme was held on 'Orientation course for trainees/support team of district level for functioning of Panchayats like Right to Information (RTI), Panchayat Act & Rules, Social audit' in Imphal on Monday.
The orientation programme-cum-training course was held at Kuki Inn under the aegis of the State Institute of Rural Development (SIRD), Manipur.
The training course was attended by around 45 key representatives of the village authorities of Island tribal development block under Saikul sub-division in Kangpopi district.
The nodal officer informed that the permissible works under MGNREGS have been increased to 270.
While 60 per cent of the permissible works under the central scheme should be productive and income generating assets, the remaining 40 pc should be horticulture related ones.
He informed that 100 out of the 270 permissible works are related to water conservation.
The nodal officer also advised the village representatives to set their work plan by holding village assembly or gram sabha in August and start taking up initiatives for proper implementation of the government schemes in their respective villages.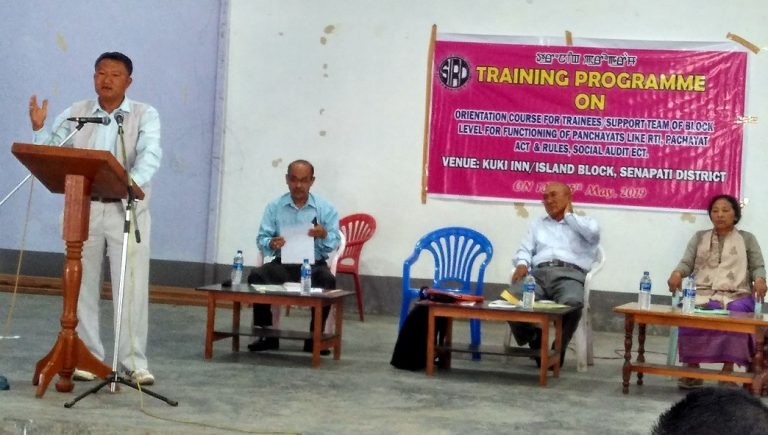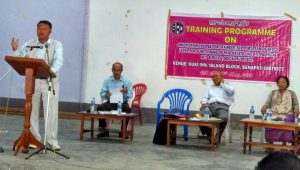 Earlier, joint director (training) Okram Lokendro Singh of SIRD highlighted the importance of holding such training to understand the various rural development programmes and schemes of the government.
This also helps increase public participation in the implementation process of developmental schemes for better livelihood.
Some resources persons in diverse fields made different presentations on the issues relating to rural development.
Former additional secretary W Nimaichand Singh of Manipur Public Service Commission made a presentation on RTI and its importance in implementation of development programmes.
Under secretary of Rural development and Panchayati Raj Kh Chaoba Singh spoke on Panchayat Act and Rules/Autonomous District Council.
The Island block under Kangpokpi district has around 86 recognised villages.