Meghalaya recorded an overall voter turnout of around 67.03 per cent in the two Lok Sabha constituencies – Shillong and Tura – while Selsella Assembly constituency which went to by-poll simultaneously with the Lok Sabha polls recorded a high turnout around 82 per cent on Thursday.
The by-poll to Selsella Assembly seat was held simultaneously with the polls to the two Lok Sabha seats – Shillong and Tura.
Also read: Shillong: 2 Lok Sabha candidates' fate to be decided tomorrow
With this, the fate of eight candidates from Shillong parliamentary constituency, three candidates from Tura Lok Sabha seat, and four contestants from Selsella Assembly has been now sealed in the electronic voting machines.
Approximately, the voting percentage in Shillong Lok Sabha seat was unenthusiastic as it recorded just 63.56 per cent while the turnout in Tura Lok Sabha seat was around 75.60 pc.
Also read: Shillong: Bonney allowed to contest as Independent candidate
However, the voting percentage for the by-poll to Selsella Assembly constituency under Tura Lok Sabha constituency was recorded at 82 per cent.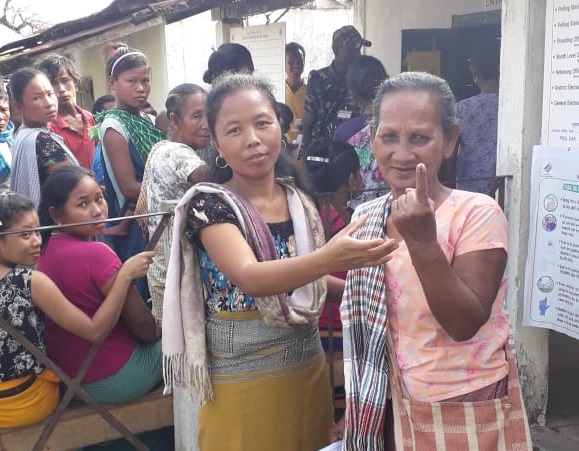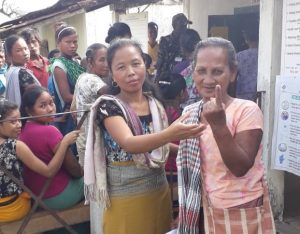 Addressing a press conference in the evening, chief electoral officer, F. R. Kharkongor informed that out of 3,167 polling stations in the state, the final tally has not reached yet from 644 polling booths, mostly from polling stations under Tura Lok Sabha constituency.
Kharkongor said that according to the available figure, the overall voting percentage was 67.03 per cent, and the figure may go up after getting final reports from all the remaining polling stations.
The weather was fine throughout the day and the polling was largely peaceful.
The CEO congratulated the people for exercising their franchise especially the persons with disabilities as well as the youth who have been engaged as poll volunteers in various polling stations.