The man-elephant tussle, especially in India, is causing global concern with the ever burgeoning population of the country 'invading' elephant corridors leading to lot of human as well as tuskers' deaths.  As if all this is not enough, a barrier put up by the Army authorities at Narangi Cantonment area (in Guwahati) bordering Amchang Wildlife Sanctuary (Assam) is turning out to be a virtual death trap for the pachyderms.
A report published in the The Assam Tribune quoted Forest Department officials as saying that the barrier has taken the lives of at least two elephants in the recent past while another injured elephant has recovered after proper treatment. The barrier comprises sharply pointed iron spikes.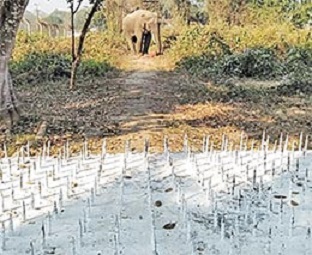 The Army has set up the barrier to secure its supply depot which elephants very often frequent in search of food. The report further stated that several representations made by the office of the Guwahati Wildlife Division to the Army authorities have fallen on deaf ears.
"This is insensitive and cruel, and has led to severe injuries in several elephants – of which two have died. We do not even know if more have died or were injured. It is generally when an injured elephant is near human habitat that we come to know about its presence," Pradipta Baruah, DFO, Guwahati Wildlife Division, said.
An Assam State Zoo veterinarian said that the recent death of two elephants was caused due to severe septicemia as a result of injuries caused by iron spikes. "Those were cases of severe infection resulting in septicemia on the leg. Treatment of wild elephants is difficult for obvious reasons – not the least because by the time we find them, the injuries are in very bad shape," he said.
The elephant which died in February was injured for a long time and the leg was "beyond recovery as the pachyderm was carrying the injury for a long time". Elephants very frequently visit the Army Cantonment area in Narengi which lies in close proximity to the Amchang Wildlife Sanctuary.  In fact, Forest Department authorities informed that the entire area used to be a part of the wildlife habitat.