The chairman of the Ranjan faction of the National Democratic Front of Boroland (NDFB-R), DR Nabla alias Ranjan Daimari, on Thursday said "the very existence of indigenous population in India, particularly in Assam and other NE States is under severe threat from outsiders and illegal immigrants from the neighbouring country".
Daimari said this while addressing a congregation of indigenous people of Udalguri district on the occasion of the celebration of the International Day of the World's Indigenous Peoples here at the conference hall of Royal Kingdom Restaurant in Udalguri on Thursday.
Former rebel Daimari, while referring to the change in demography of neighbouring Tripura, expressed concern that the immigrants from Bangladesh have been the cause of bringing palpable threat to the indigenous tribes of Tripura and same might happen in Assam in coming days.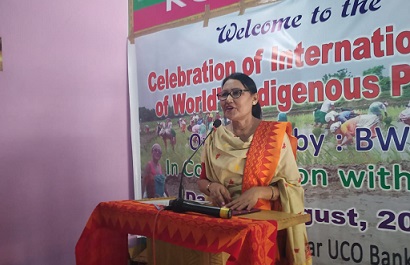 Lamenting the recent developments in the ongoing National Register of Citizens (NRC) update process in Assam, the NDFB-R chief said, "The celebration immediately after the publication of the final draft by a section in Assam by distributing sweets among themselves sounded hollowness for the NRC itself as it (final draft NRC) seems to be defective due to non-inclusion of many indigenous people while inclusion of too many doubtful immigrants."
Daimari also briefed the significance of the day since it came into being after the United Nations Organisation (UNO) understood the problems of millions of indigenous people of the world and dedicated August 9 as a day to remind indigenous people of their rights.
The meeting, chaired by the principal of Tangla College, Dr Prasenjit Daimari, was also addressed by the chairperson the Boro Women's Justice Forum (BWJF), Dr Anjali Daimari among others.
The event was organised jointly by the Boro Women's Justice Forum (BWJF) in collaboration with the Society for Indigenous People's Rights (SIPR).