The district administrations of Kokrajhar and Chirang organised patriotic song competitions among the students on Monday on the occasion of the the 72nd Independence Day.
In Kokrajhar, the programme was organised at Commerce College, Kokrajhar.
The programme was inaugurated by Niranjan Baruah, Deputy Commissioner, Kokrajhar in presence of Additioonal Deputy Commissioners (ADCs) Prafulla Chandra Barman, Debeswar Bora, AC Bharat Konwar, Inspector of Schools Jagdish Prasad Brahma, DIPRO Gagan Narzary, heads of institutions, teachers and students of various schools and colleges.
The competition was held in two groups like Group – 'A' for college students and Group – 'B' for school students.
In the slogan competition, the essence of patriotism was felt through the excellent performance of the students.
In the Group – 'A' Niranjan Brahma of Kokrajhar Government College, Anurag Nath of Kokrajhar Government College and Shuga Ghose bagged the 1st, 2nd and 3rd prizes while in the Group – 'B' competition, the 1st, 2nd and 3rd positions were won by Supriya Sutradhar of MCM Woodland School, Subhramita Kundu of Fakiragram High School and Maosumi Barman of Silgara High School.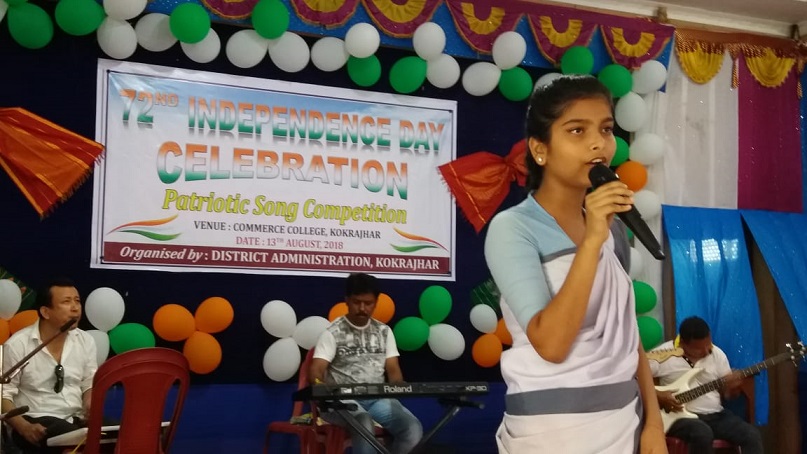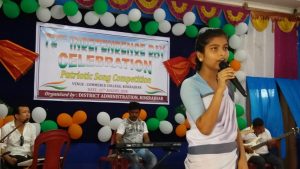 Meanwhile, the district administration of Chirang has planned a number of programmes to mark the 72nd Independence Day celebrations. On August 13, 2018, the district administration of Chirang organized patriotic song competition at Milan Udyan from 10 AM.
On August 14, 2018, art and quiz competitions will start from 9 AM at Kajalgaon High School followed by various colourful day-long programmes on August 15.