Senior Assam Pradesh Congress Committee (APCC) spokesperson Bobbeeta Sharma has alleged that the Bharatiya Janata Party (BJP) has been involved in collecting information regarding different Assembly constituencies of Assam calling Congress leaders.
Sharma, who lost the Assam Assembly polls 2016 from Guwahati East constituency to Bharatiya Janata Party's Siddhartha Bhattacharya, in her Facebook page on Friday stated that she had received a call from a person who had introduced himself as one Robin from a national TV and asked to share some information regarding her constituency.
She also stated that the caller had also asked her to share information, if possible, about neighbouring constituencies like Dispur, West Guwahati, Jalukbari, Palashbari and Hajo for exit poll purpose as the Lok Sabha election 2019 is approaching.
Sharma stated that she had received the call from Delhi telephone numbers – 011 -23385375 /23385395, which she claimed, are telephone numbers of BJP's 11 Ashoka Road office.
Sharma's FB post on Friday read as: "In the afternoon, I got a call from a Delhi number 011 23385375 /23385395. The person on the line said he is Robin from NDTV and wanted to know densely populated areas of my constituency that is East Guwahati Constituency and also if possible the neighbouring constituencies like Dispur, West Guwahati, Jalukbari , Palasbari and Hajo for exit poll purpose of 2019 elections."
Congress leader Sharma, who lost the last Assembly polls by a margin of 96637 votes, posted, "Wonder why BJP party workers are calling up Congress persons to get information by impersonating themselves as journalists???!!"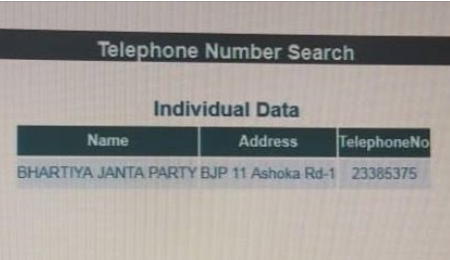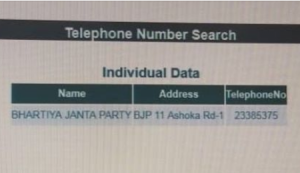 She also posted: "And just imagine the cheek of the person calling from the BJP office and lying through his teeth that he is a TV journalist!!"
She also brought the allegation against the BJP on her Twitter handle on Friday.
A person named Robin called claiming to be a TV journo from @ndtv doing survey on 2019 exit polls wanting info on my East Guw Constituency. Later checked mtnl directory & found the call came from 11 Ashoka Road BJP party office (011 23385375 /23385395)! ?

— Bobbeeta Sharma (@bobbeeta) September 21, 2018
"But what do you expect but lies & deceit from such a party??!!" she added.
On the other hand, on her Tweeter handle, Sharma, alleging that similar calls have also been received by other party leaders of Assam, on Saturday stated: "They were calling up others too! CLP leader Debabrata Saikia, Bismita Gogoi and Dulu Ahmed by impersonating as journalists & researchers. Big deceivers!"
It would be interesting how the BJP reacts in this regard.
What nonsense ! They were calling up others too ! CLP leader @DsaikiaOfficial , @Bismita Gogoi and Dulu Ahmed by impersonating as journalists & researchers. BIG deceivers ! #BJP #Imposters https://t.co/MRJgXHZcIO

— Bobbeeta Sharma (@bobbeeta) September 22, 2018