If BJP is voted to power, Meghalaya would be turned into a model State within five years. This was promised by BJP's national president Amit Shah during his visit to Meghalaya on Friday.
While addressing two election rallies in Meghalaya on Friday, Shah called to dethrone the present Congress-led Meghalaya government, which he claimed, has committed scams after scams in its 10-year rule.
Claiming that the "acceptance of the BJP in the Northeast has increased day by day" Shah assured that "if the BJP is voted to power, Meghalaya will be turned into a model State within five years".
In the morning, Shah first addressed a rally at Jowai in West Jaiñtia Hills district, about 63km from here and later at around 3.40 pm he addressed another rally in Shillong.
Speaking to BJP supporters at Malki ground in Shillong, Shah said, "Over the last 10 years, there has been long series of scams after scams committed by the Mukul Sangma-led government. There have been scams in the recruitment of teachers and police. If you look at the scams, this is a record of scam-making government."
Holding the Congress government responsible for the coal mining ban, BJP president Shah said, "Due to scams and mismanagement, there have been issues across where mining has been halted, tourism has not taken off, jobs are not created, small industries are not there and the number of people including young boys and girls committing suicide has gone up by an astounding 45 pc."
Pointing out that only 68 pc of teachers are teaching Science and Mathematics in schools and shortage of 70 pc doctors in the State, Shah said, "There has been 30 pc increase in crimes against women and this has broken all records."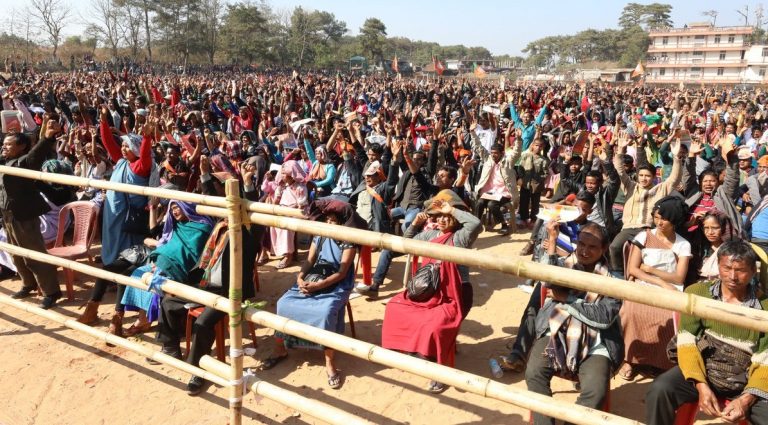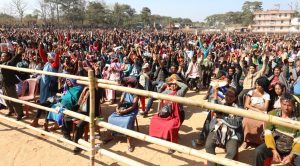 Shah further claimed that during the UPA government led by Manmohan Singh as Prime Minister, the Congress that led the government in Meghalaya at that time used to get Rs 5,817 crore in the 13th Finance Commission under the 14th Finance Commission, but the NDA government has increased this amount to Rs 25,400 crore.
The BJP president also highlighted various Central schemes provided to Meghalaya which include Mudra (Rs 463 crore), Uday (Rs 600 crore), Swachh Bharat (Rs 4 crore), urban transportation (Rs 46 crore), AMRUT (Rs 80 crore), tourism (Rs 100 crore), sports complex (Rs 7.5 crore), and Jowai road (Rs 67 crore), and Sonapur (Rs 43 crore).
He added, "Another amount of Rs 640 crore is also in the pipeline for developmental works in the State."
Despite huge amount of money provided to the State government by the Central government, development has not taken place in the State, Shah claimed.
Stating that the BJP has a vision for development of Meghalaya, Shah questioned, "Where has the money, which has been given by the Centre, been spent?"
He told the gathering that the five years back, the house of any Congress leader used to be an ordinary small house, "But today, they have huge houses, mansions, they have vehicles. This is where the money has been going. If we have to change, February 27 is an extremely important day."
Saying that Prime Minister Narendra Modi has been working day and night to develop the Northeastern region and make it more developed, the BJP president asserted, "Because of the NDA government's efforts to bring development, the acceptance of the BJP in the Northeast has been on the rise day by day."
Shah while urging the people of Meghalaya to dethrone the "corrupt Congress government" and replace it with a BJP-led government so that the Prime Minister's vision can be implemented, Shah added, "There is BJP government in Assam, Arunachal Pradesh and also in Manipur. We are also moving in the same direction in Nagaland and Tripura too."