A devastating fire broke out at Nirvana Towers near Nursery along Zoo Road near Ganeshguri in Guwahati at around 4.45 pm on Sunday.
As per information, the fire broke out in the third floor of the building owned by Indra Kalita, Joint Secretary, Urban Development, Assam and Commissioner, Assam State Housing Board.
The third floor of the building was under-construction for a coaching centre.
The eyewitnesses said, "As soon as the fire broke out, the fire service and SDRF personnel were called and after arriving at the spot they entered the floor of the building breaking the windows and doused the fire within a short period."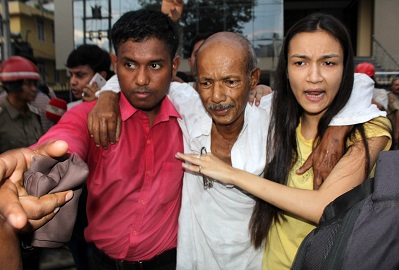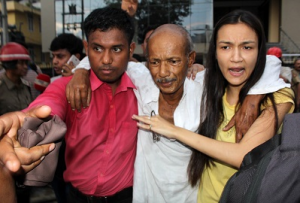 A total of six fire tenders were engaged to douse the fire.
The fire fighters and State Disaster Response Force (SDRF) personnel also rescued an aged person from the rooftop of the building.
The locals said, "An old man, identified as Prashanta Dutta, aged around 80 years old from Sivasagar, who came to stay with his nephew, Anupam Dutta at the fourth floor of the building for treatment, was noticed by us on the rooftop holding a railing," adding, "The fire fighters and SDRF personnel rescued the aged man after being informed."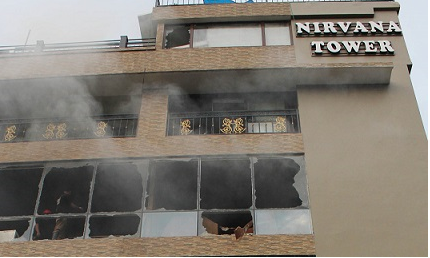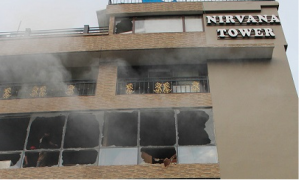 The aged man, who was shocked at the fire incident as he remained stranded in the terrace, was immediately admitted to Dispur Hospital. His condition is stated to be stable.
As per police sources, though the cause of the fire is yet to be ascertained it has been suspected that the fire occurred due to short circuit.
The locals also informed that three gas cylinders were removed from the spot by the fire fighters and SDRF personnel safely and saved the area from further disaster.