The All Bodo Students' Union (ABSU), People's Joint Action Committee for Bodoland Movement (PJACBM) and the National Democratic Front of Bodoland-Progressive (NDFB-P) observed 'Betrayal Day' in Kokrajhar and other parts of the BTAD on Thursday in protest against the BJP-led NDA government's failure to fulfil their promises on the Bodoland issue ahead of 2014 Lok Sabha elections.
The protest programme was observed at the Children Park near Kokrajhar Deputy Commissioner's Office. The agitators tonsured their heads as part of the protest.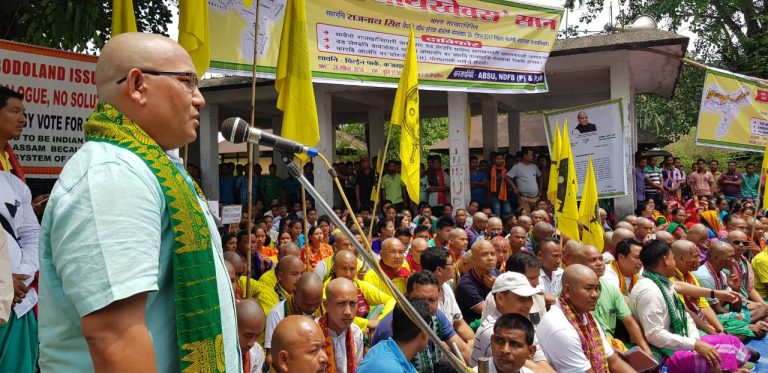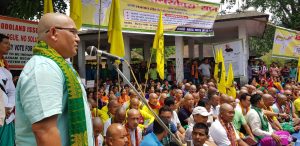 The agitating ABSU, PJACBM and NDFB-P leaders urged the Central government to fulfill their demands for formation of a separate Bodoland, hold tripartite political dialogue to bring a solution to the issue, granting Scheduled Tribe (Hills) status to the Bodos residing in Karbi Anglong and ensure political rights to the Bodos residing outside the proposed Bodoland area.
Addressing the protest programme, ABSU President Pramod Boro criticised the Bharatiya Janata Party-led Central government's stand on the Bodoland issue. He questioned, "Was it a mistake to cast our vote in favour of the BJP in 2014 Lok Sabha election?"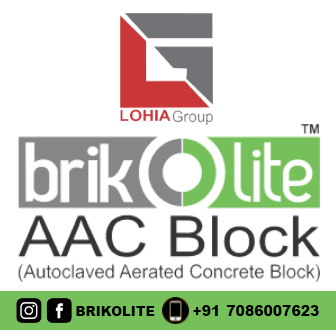 The ABSU President further said, "The protest will continue until a separate Bodoland State is formed."
Boro further declared a 5-day-long National Highway blockade programme along with indefinite hunger strike, 36-hour chakka bandh and railway blockade from May 2, 2018. He said, "The BJP government doesn't understand the meaning of non-violence."
Reacting to the Assam Cabinet expansion after two years of government for the first time, Boro said, "Peace and harmony cannot be established in the State, though you expand your cabinet to 100 ministers, until the government works for the greater interest of the Casts and Tribes of the State."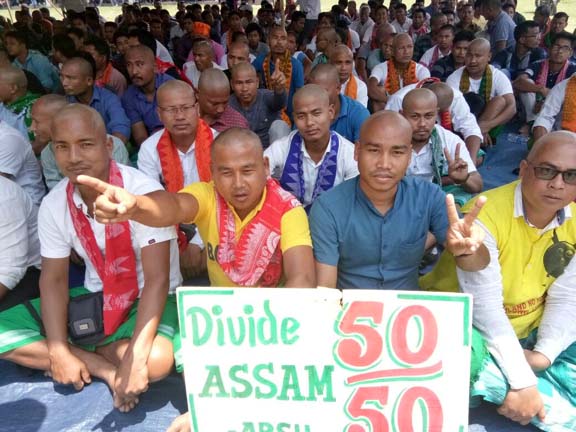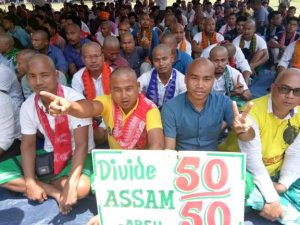 Along with other parts of the BTAD, hundreds of activists of ABSU, NDFB-P and PJACBM also observed the 'Betrayal Day' in Udalguri Durga Mandap premises from 10 am to 1 pm on Thursday.
The agitators expressed their anguish over apathy towards their demands for a separate Bodoland and facilities to the Bodos living outside the proposed Bodoland area.
The programme began with mass tonsuring of heads, symbolizing anguish over the passive attitude of the Central government towards continuation of the tripartite talks. The protest was addressed by UPPL President Pradip Kumar Daimary, ABSU Vice-President Dipen Boro, NDFB(P) Chairman Dhiren Boro, PJACBM chief convenor Rakesh Boro, NDFB(P) Speaker B Benga among others.
The speakers lambasted the Central government for its pre-poll promises of resolving the statehood issue.