Newly-floated militant organization Dimasa National Liberation Army (DNLA) has called for a 36-hour Dima Hasao and Karbi Anglong bandh on Wednesday, a day ahead of the second phase of Lok Sabha polls.
The bandh will come into effect from 5 in the evening on Wednesday.
It may be mentioned that Autonomous District Lok Sabha constituency, which includes three hiss districts – Karbi Anglong, West Karbi Anglong and Dima Hasao, will go to polls in second phase on April 18.
Informing about the formation of the outfit, a press release issued by Ringsmai Dimasa, information & publicity secretary of Dimasa Peoples' Supreme Council (DPSC)/DNLA, stated that the Dimasa tribe of the country formed the organization (DNLA) under the chairmanship Naisodao Dimasa and home secretary Kharmindao Dimasa.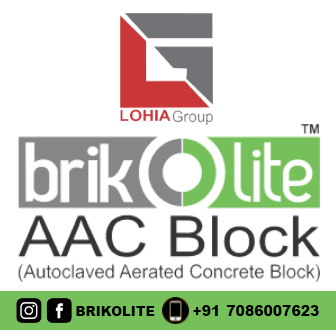 Also read: Assam: Dima Hasao readies for second phase polling to elect 17th Lok Sabha
"The organization is for and to develop a sense of brotherhood among the Dimasa and also to rebuild the trust and faith among the Dimasa society for regaining the Dima Kingdom," it stated, adding, "The organization also established a government in exile called 'Dimasa Peoples' Supreme Council (DPSC)' which will interact with formal and non-formal world bodies and media."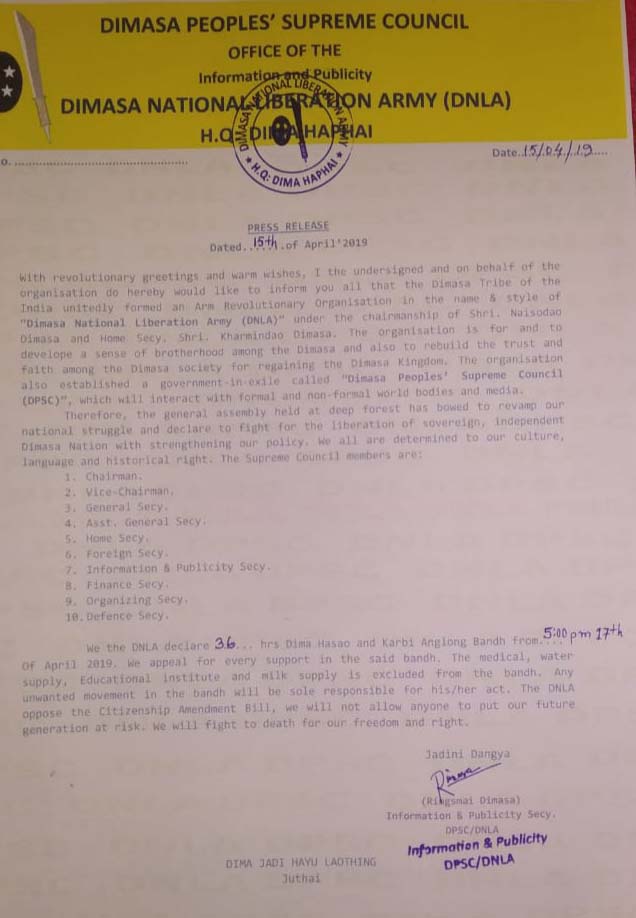 It also stated that a general assembly of the council held in deep forest vowed to "revamp" their "national struggle" and declared to "fight for the liberation of sovereignty, independent Dimasa Nation" by strengthening their policy.
Also read: Assam: Polling & counting day declared as dry days in Dima Hasao
The outfit further stated that they are "all determined" to their "culture, language and historical right".
Declaring the 36-hour bandh from 5 pm on Wednesday, the outfit stated that the medical, water supply, educational institutes and milk supply have been excepted from the purview of the bandh.
"The DNLA oppose Citizenship Amendment Bill, we will not allow anyone to put our future generation at risk. We will fight to death for our freedom and right," the outfit further stated.
Talking to Northeast Now over the outfit, Dima Hasao superintendent of police (SP) Sreejith T. claimed that the organization has no base in the district. "It may be a group of five to six members," the SP said.
On the other hand, regarding the bandh call given by the outfit the Dima Hasao police boss said that the Supreme Court has already declared any bandh as 'illegal'.
He said the police will take steps against such threatening by a militant outfit. The top police official of the district also said they will file a case against the DNLA.
"Besides Assam police, we also have Assam Rifles. So, police administration is always ready to face any such threats," said Sreejith T.
He also called the outfit to leave arms and come for talks if they have any issue. "But no talks with armed outfit," he added.
In video clippings, sent to the media houses, the armed members of the outfir raised slogans like 'DNLA Jindabad."