Assam Minister for Hills Area Development (HAD) and Mines & Minerals, Sum Ronghang laid stress on transparency in governance while speaking at the Vikas Utsav for Lumbajong and Dhansiri Member of Autonomous Council (MAC) constituencies held at Joysing Doloi Auditorium in Diphu.
Speaking at the Vikash Utsav, Minister Ronghang said, "We are working for corruption-free administration. To achieve that our endeavour is to maintain transparency in our governance. We are doing our works in front of the people. In Dhansiri constituency, there are about 33,000 voters and in Lumbajong, there are 65,000 voters, there are nearly a lakh when they are combined. There are people of all communities here and we want that development touches everyone."
He also said that funds should be released and utilised in time.
Chief Executive Member (CEM), Karbi Anglong Autonomous Council (KAAC), Tuliram Ronghang, while coming down heavily on RTI activists said they are obstructing development.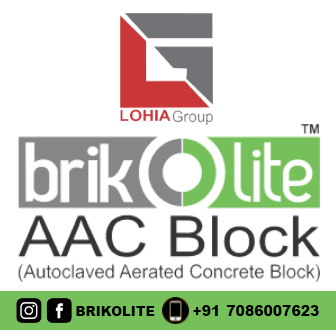 CEM Ronghang said, "RTI Act is good. But in Karbi Anglong, the RTI activists are threatening the officers. In the name of RTI, no extortion will be tolerated. Development works are being carried out. Construction works are being carried out. But the labourers have been threatened and beaten up. If the labourers are working at night, they are asked as to why are they working at night. If there is no work, they ask why no work is being done? There will be development. No one can stop development; we respect the people."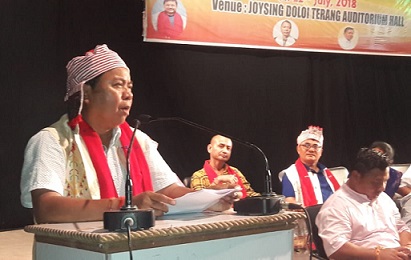 He further said, "We will keep asking for an Autonomous State as per the Constitution. But we are not going to indulge in violence in the name of Autonomous State."
The CEM also said after August 15, he along with the Principal Secretary, other officers, Members of Autonomous Council (MACs) and Executive Members (EMs) of KAAC would start visiting the remote, inaccessible and the most underdeveloped areas of Karbi Anglong and West Karbi Anglong districts.
He also spoke on various Government works, schemes and projects to be implemented by the Government including building of roads in the next two years.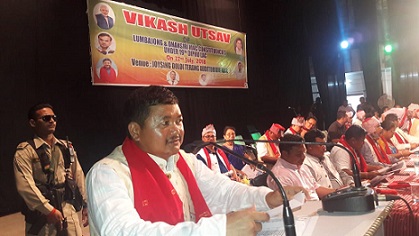 On the occasion, an 11-year-old Hemphu Bongjang, a young Karate player was felicitated for his achievement by the KAAC. A cash award of Rs. 2 lakh and citation were also presented. Hemphu is the son of Nagen Bongjang and Kanika Teronpi of Guwahati. He has been selected for the Commonwealth Karate Championship to be held at Durban in South Africa.
Seven students, who have been selected for MBBS-BDS courses, were also felicitated.
Earlier, CEM Tuliram Ronghang and HAD Minister Sum Ronghang laid the foundation stones for development schemes in Dhansiri and Lumbajong MAC constituencies.
EM and BJP's East Karbi Anglong District Committee president Ratan Teron, vice-president Bharat Kumar Timung, secretary Madhuram Lekthe, general secretary Ajit Dey, EM Amar Sing Tisso, MLA Dr Mansing Rongpi, MACs, Principal Secretary, In-charge, Si-im Taro, Secretaries and others were also present at the Vikas Utsav.