A Heritage Walk titled 'The Historic Marvels of Dhubri Town' was successfully organized by Sahapedia, India Heritage Walks in collaboration with District Museum Dhubri in the town on Sunday.
The heritage trail involved walking through the lanes of Dhubri town and exploring the town's rich heritage buildings, art and architecture.
The walk was led by senior journalist Bijoy Kumar Sharma.
Over 30 heritage enthusiasts including students from Dhubri Girls College participated in the walk who listened to the interesting facts and historical stories shared on the trail.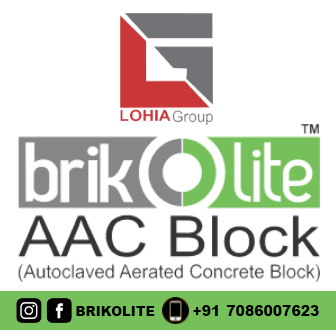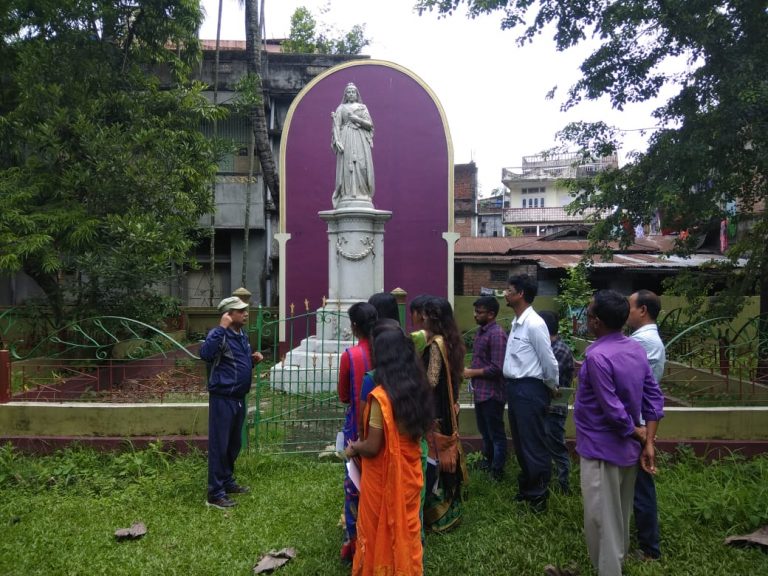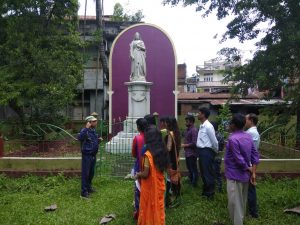 The walk covered 13 prominent sites in the town which started with an introductory session under the shade of the imposing marble statue of Queen Victoria.
The group then marched towards the iconic Government Boys Higher Secondary which itself has stood witness to many historical accounts of the town, not forgetting Dr Bhupen Hazarika and Jyoti Basu's early years of education here.
This was followed with the stopover near the 17th century old Armenian Church of Dhubri, the District Museum, the Gurudwara, the Panch Peer Dargah, the Netai Dhubuni Ghat, the Meteorological Tower etc to name a few spots.
"Heritage walks act as a tool for engaging youth and provide deeper insights into heritage awareness. Such walks also help in promoting action for the protection and preservation of the rich heritage. Our aim of conducting frequent walks around Dhubri town is to make the locals learn more about where they live and generate a sense of memory, connection and belongingness to the past history of the place. Also, the success of heritage walks lies in the exploratory nature of the participants which promotes development of observation, analysis, curiosity and critical thinking skills," as added by Sharma.
Mrinmoy Das, District Museum Officer, Dhubri said that this time the Heritage walk was specially designed as an important experiential model for heritage education involving physical walking around the sites, allowing personal observations and offering several nuances of the heritage buildings in their original context.
The idea behind the walk is to create awareness and interest about the town's heritage, educate the locals about the existing historical buildings and inform them about various aspects of heritage, history, art, architecture, both tangible and intangible.
"I have not missed a single walk since it's inception and every time it's a new experience for me. The historical stories and memories drawn from the pages of Dhubri's rich history makes me feel very fortunate to be living in Dhubri. The walk is successful in imparting new knowledge, creating interest about heritage and providing the best opportunity for people of all walks of life to experience history," expressed by Debojit Das who has persistently participated in all the walks.
The walk which lasted for 90 minutes was organized by Sahapedia, a Delhi based organization working for heritage conservation, and in collaboration with District Museum Dhubri.
A similar walk was also organized on March 17.