A buoyant Assam Agricultural University (AAU) is all set to celebrate its Golden Jubilee year with a slew of programmes including the visit of India's Vice President Venkaiah Naidu on April 17.
The event will be attended by Assam Governor Jagdish Mukhi, State Chief Minister Sarbananda Sonowal and State Agriculture Minister Atul Bora.
Vice Chancellor KM Bujarbaruah in a press meet here on Thursday looked back with satisfaction at the way the University and its constituent colleges had shaped up in the past nine years of his tenure and before  and envisaged the continuity of a vibrant environment and ground breaking research based on a bedrock of financial stability.
"The celebrations began with the inauguration of the new gate, the University song, launching of a logo, the procession and an Alumni meet of the College of Community Science.  In total, we will have 32 events, some here and some in other colleges, a calendar of the events will be published soon," Bujarbaruah said.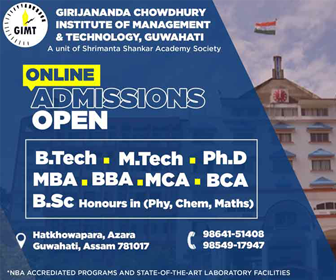 The events will include agriculture college alumni meet will be held on May 3-4, brainstorming sessions with farmers,  another one on agriculture policies and technology, there will be international seminars on organic farming and climate change,  a students meet, a meet to thrash out ways to attract students to agriculture, an all Assam badminton competition,  an all Assam debating competition and recognition awards to 13 people which include farmers,  former Justice of the Supreme Court SN Phukan, industrialist Sironjib Chaliha, Deepak Borthakur, State Innovation and Transformation Aayog,  musician and lyricist Lakhya Hira Das, Rajashree Kakati Baruah,  chief general manager,  Nabard,  Dispur and Gopal Krishna Khound,  small tea grower apart from the best teacher and best researcher awards.
Ticking off the achievements Bujarbaruah said that from only 800 applicants for seats in 2009 the number of applicants had gone up to 15100 last year. At present, the University has eight foreign students; it has 530 PhD scholars, 275 in agriculture, 190 in veterinary science and 55 in the College of Community Science.
The contribution in terms of human resources was 14759 till now covering agriculture and allied fields.
Regarding contributions to society, the University had produced 118 crop varieties for the Northeast and the country, two animal varieties and one poultry breed.
The greatest contribution was the production of pod borer resistant BT Chickpea which was being accessed by foreign countries as well as other states in the country.
Another was Assam Mix, a cheap but nutritious baby food alternative to the costly products available in the market by the College of Home Science and which had found a market in Jharkhand and other places and also in Fishery Science as well as Badam Bhattacharyya and his team dealing with the grub beetle in Majuli.
Regarding recognition,  Bujarbaruah said that the University had won 123 national awards,  in individual and group categories in the past eight years.  For five consecutive years the students if AAU had best student award and even recently in an international students meet in Malaysia, an AAU student had bagged the best student award.
About the colleges, he said that in 1988 there were five colleges and the University had added another four, building three of the existing ones anew, taking the total to nine and two more,  an agroforestry college at Kokilabari,  Bodoland area and a dairy science at Sorbhog and another Agriculture University in the Barak Valley were on the anvil. They also had 11research stations and 23 KVKs reaching out to the farmers.
"The University is today in a sound financial position making about 13to 14 crore annually.  It could make upto 150 crore if the University was given the paddy seed production for the northeast," Bujarbaruah said.
He also thanked the State Finance Minister Himanta Biswa Sarma for giving 360 crore in the last package would help in the payment of Rs 40 crore of pensioners money,  a liability which was continuing from before he had taken over charge as VC in 2010.
The University had also much to look forward to as Rs 25 crore would be given for Institution Development Project in which 55 faculty and 150students would be sent abroad for better knowhow and research at a cost of Rs 5 lakh each.  There was another Rs 8 crore package for ugradation of the tissue culture lab with bioreactors.
"The only regret I have as I come to the end of my tenure in 2019 is   that I could not make the muster roll labourers permanent," added Bujarbaruah.