Keeping the comfort of passenger's on priority, Indian Railways are investing much to upgrade the services provided to the passengers regularly, but for a Hojai resident of Assam it was a harrowing experience.
But it was different story altogether on Monday when a passenger had a harrowing time when he was charged wrongly on cancellation of his tickets.
The victim, Gajananda Agarwal informed Northeast Now on Monday that he had cancelled his confirmed ticket for a journey on July 16 last from New Tinsukia to Hojai and another ticket of July 14 from Hojai to New Tinsukia.
Both the tickets were cancelled on July 13.
"I was very surprised to see that for New Tinsukia  To Hojai journey of July 16, the amount deducted  was Rs774 whereas for Hojai to New Tinsukia journey of July 14, the deducted amount was Rs 380. I saw a huge difference in cancellation charges, so I instantly approached the railway staff at Hojai railway station, but they were unable to tell me why this difference has occurred," he said.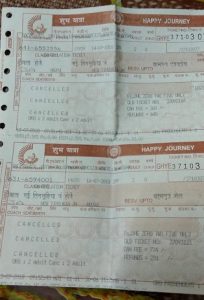 He further added," I have sought the assistance from railway authorities in clearing the confusion of this disparity in cancellation charges of both the tickets on same day through a complaint to the concerned authority, but till date I have not received any reply regarding the same."
He also said that if it has been done wrongly, then the railway authorities have to look into the matter and rectify the error as soon as possible.
He further requested the railway authorities to clearly state the cancellations charges by printing the cancellation charges either on the tickets or by displaying them near the reservation counter which has not been done till date, which is creating problem for the passengers on regular basis.