The curtains of the two-day State level youth meet came down at Sankari Kristi Vikash Kendra, Kathpori, near Mangaldai in Darrang district on Sunday where relevance of Vaishnavite thoughts were underlined.
The meet was organized by the Darrang district unit of the All Assam Tarun Vidyarthi Samaj under the aegis of Ek Saran Bhagawti Samaj, Asom from Saturday.
The meet, where more one hundred delegates from more than ten districts across the State including Kokrajhar, Dhemaji, Lakhimpur, Sonitpur, Nagaon, Morigaon, Kamrup were present, featured various socio-cultural, spiritual and academic programmes including community morning prayer, unfurling of the organizational flags, plantation, community cleanliness drive, workshop besides a series of seminars.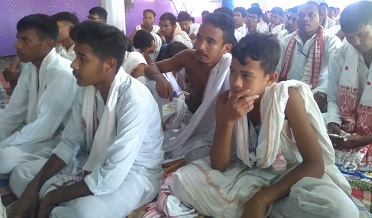 The topics of seminars included 'Swacchtar Dishat Ekhoj – one step towards cleanliness', 'Swasthya Rakshar Byabastha aaru Yogabhyas – good health and yoga', 'Srimadbhagawt Geeta aaru Eksaran – relevance of Geeta and concept of one God', 'Adhunik Siksha aaru Tarun Vidyarthi Samajar Bhabishyat – modern education and the future of Tarun Vidyarthi Samaj', 'Adhyatmik Jnanehe Manuhak Sat Saritraban Kore – Spiritual knowledge only can make people strong with character' and 'The Skill Development Programme of the Govt of India' among others.
Participating the seminars as the resource persons several speakers including Mangaldai MLA Gurujyoti Das, Darrang Deputy Commissioner Ashok Kr Barman, Additional Deputy Commissioners Bidyut Bikash Bhagawati and Narnarayan Nath, faculty member from Cotton University Dr Swapnali Das Bora, Secretary General of Ek Saran Bhagawati Samaj, Asom, Jyoti Prasad Das, Giridhar Kalita, Bishnu Prasad Das, Madhab Nath and Jay Ram Hazarika underlined the relevance and need of studying and following the futuristic ideology and thoughts of Acharya Ila Ram Das, the Sankardev Award recipient eminent Vaishnabite scholar and the founder of both the Ek Saran Bhagawati Samaj and Tarun Vidyarthi Samaj, Asom that was practised by him long forty years ago.