Assam Governor Prof Jagdish Mukhi along with the First Lady of Assam Prem Mukhi attended Guru Nanak's Prakash Utsav synchronizing with the 550th birth anniversary celebrations of Guru Nanak Dev observed in a Gurudwara at Gopinath Nagar in Guwahati on Sunday.
On this occasion Prof Mukhi while paying obeisance to Guru Nanak Dev prayed for the welfare and development of all sections of the people of the State. He also expressed his happiness for getting the opportunity to be amongst the sadh Sangat who have assembled to celebrate the birthday of Guru Nanak Dev.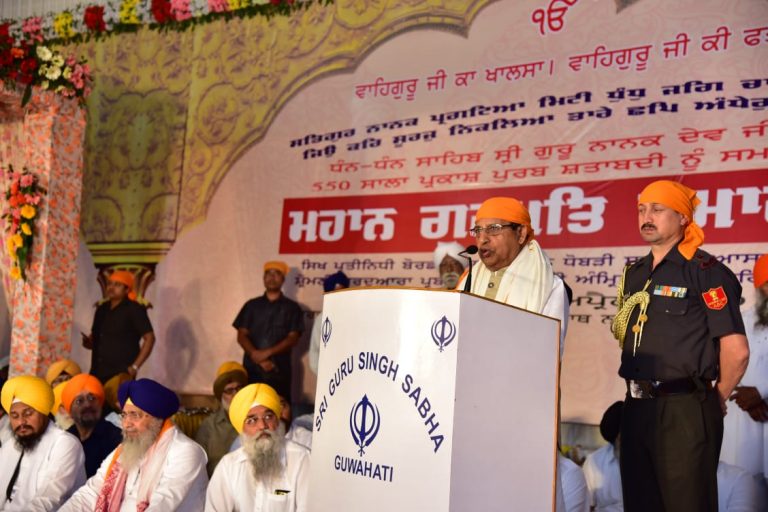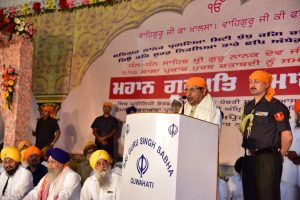 Speaking on the occasion, the Governor said that Guru Nanak in his journey on this planet, propagated the message of universal brotherhood and peaceful coexistence. He went around the country and the neighborhood to dispel the many practices which were outdated and opposing free intermingling of different faiths.
Prof Mukhi moreover said that Guru Nanak Dev was one of the greatest philosophers, teachers and social reformers, who had set up a unique spiritual, social, and political platform based on equality, fraternal love, goodness, and virtue. He also appealed to the devotees assembled on the occasion to emulate the teachings of Guru Nanak and spread the message of love, compassion and universal brotherhood and transform the society in to one his dream.
It may be mentioned that Sikh Pratinidhi Board Eastern Zone, Dhubri Sahib has been celebrating the 550th birth anniversary of Guru Nanak Dev in collaboration with Sri Akal Takht Sahib, Shiromani Gurdwara Parbandhak Committee, Sri Amritsar Sahib and North Eatern Sikh Sangat synchronizing with the year-long celebrations that have been lined up by the government of India to commemorate Guru Nanak Dev's 550th birthday.