Prime Minister Narendra Modi who is on a day-long visit to Arunachal Pradesh inaugurated the Dorjee Khandu State Convention Centre and Civil Secretariat in Itanagar on Thursday.
Inaugurating the secretariat Modi said most of the key departments are based in the new secretariat. This makes it easier for people coming from distant villages because they do not need to move from one place to another. Everything is in one place only. Coordination and convenience are enhanced.
This is more than a building, it is a vibrant centre that will further the aspirations of Arunachal Pradesh the PM added, inaugurating the convention centre
This is the PM's first visit to Arunachal Pradesh post Doklam standoff with China last year.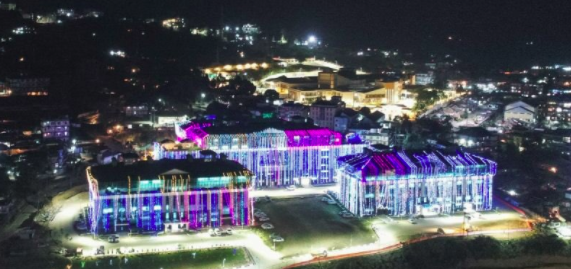 Most of PM Modi's speech was dedicated to the Ayushman Bharat scheme, which will provide Rs 5 lakh health cover for 10 crore people, and also announced that the Naharlagun-New Delhi train would run twice a week and would be called Arunachal Pradesh express.
Speaking on the Ayushman Bharat scheme, he said the policy would take the lead in providing quality and affordable healthcare. "The health sector needs special attention. Healthcare has to be of good quality and it must be affordable. Stents were exorbitantly priced. We brought the prices down so that the poor and middle-class families benefit," says PM.
In his speech he also said, "Why should meetings only be held in the national capital. We must go to all states and that is why I came to Shillong for a Northeastern Council meeting and an important meeting related to agriculture was held in Sikkim,".
After Arunachal, the PM will travel to Tripura for the BJP's campaign in the northeast state in its bid to replace four-time Chief Minister Manik Sarkar. The PM will address two rallies at Santirbazar and Agartala on the penultimate day of campaigning for the February 18 elections.