Academic activities in North Eastern Regional Institute of Science and Technology (NERIST) at Nirjuli in Arunachal Pradesh have come to a standstill even as the indefinite strike of the Students Union of NERIST (SUN) entered its third day on Thursday.
The Union Ministry of Human Resource Development is yet to give its official reply to the students' demand of immediate appointment of a regular director for premier technical institute of the State and the region.
Volunteers of the students have suspended vehicular movement within the premise and also locked the main entrance gate.
Groups of students have gathered in front of the institute staging protest and shouting slogans denouncing HRD Ministry's stoic silence on the matter.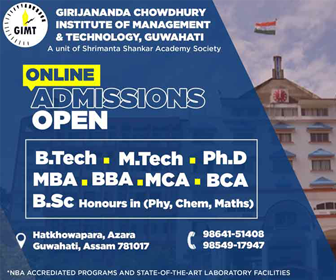 The students also shouted slogans against Minister of State for Home Affairs, Kiren Rijiju who hails from Arunachal Pradesh for his alleged failure in solving the impasse.
Also read: NERIST comes under siege as students begin indefinite protest
The students of the premier technical institute of the State have been demanding posting of regular director for the last four years.
Earlier, Union Minister of State for Home Affairs Kiren Rijiju had alleged that internal strife among the NERIST faculty members are proving to be roadblocks to early settlement of the issue.
However, NERIST authorities have denied any internal strife that might come as hurdle in the way of appointing a permanent director.
In the meantime, insiders on conditions of anonymity said a lobby wants the permanent director to be appointed from someone with past experience in the institute for 'effective administration'.
Earlier on Wednesday, Prof Tamo Mibang, Vice Chancellor of Rajiv Gandhi University (RGU), who is temporarily looking after the affairs of the institute, went to pacify the agitating students, but to no avail.