Arunachal Pradesh East MP Ninong Ering has appealed to the Union Minister of State for Agriculture and Farmers' Welfare Gajendra Singh Shekhawat to give equal opportunity to the locals to represent the College of Horticulture and Forestry (CHF) at Pasighat.
Ering in a letter addressed to the MoS on Saturday said: "Though the Agriculture and Farmer's Welfare Minister in his recent reply to an un-starred question raised by him (Ering) in the Parliament had stated that University has appointed teachers/faculties from all over the country (15 states), however, majority of the people appointed in the CHF were only from a particular state."
Because of this reason there is anger in the local people. If the issue is not resolved in a time bound manner and local people are not given proper representation, then they may resort to take other democratic ways to show their anger, the MP wrote in his letter.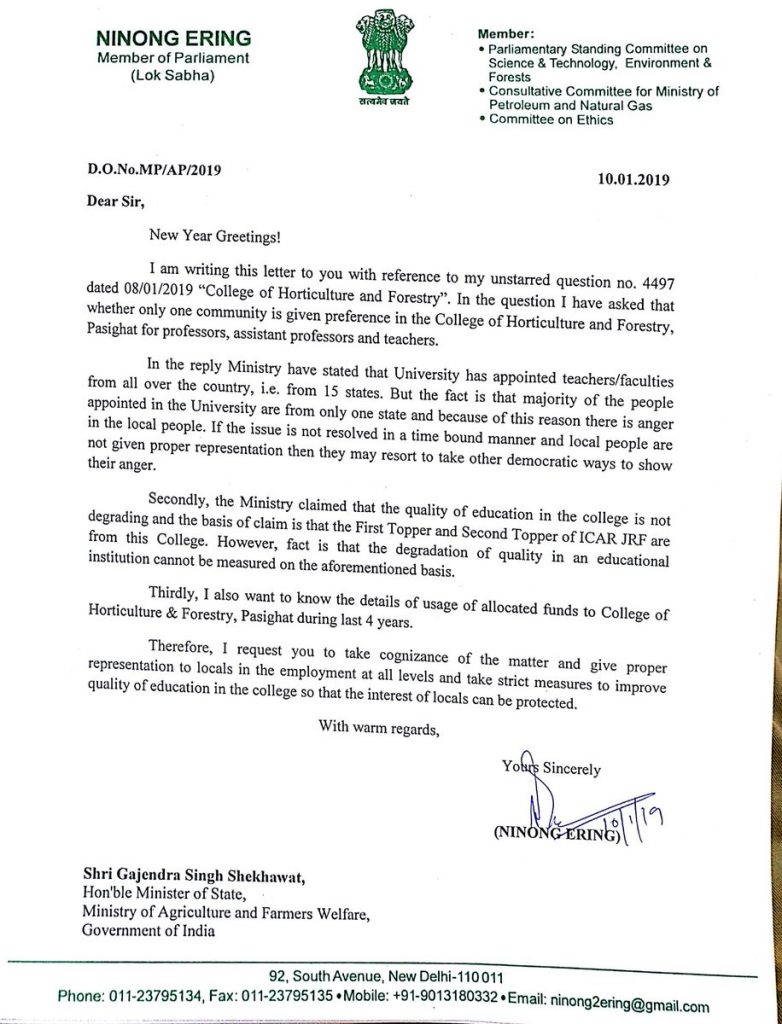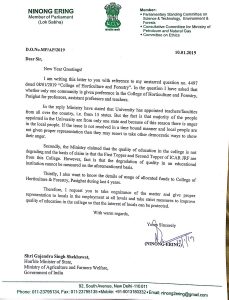 Also replying to Shekhawat's claim that the quality of education in the college was not degrading and the institute's students have excelled and secured first rank of ICAR JRF all India competitive examination in both horticulture and forestry disciplines during 2014-15, Ering said.
"The degradation of quality in an educational institution cannot be measured on the aforementioned basis," the Member of Parliament stated.
The MP further also sought the details of usage of allocated funds to CHF, Pasighat in Arunachal Pradesh during the last four years.
"I request you to take cognizance of the matter and give proper representation to locals in the employment at all levels and take strict measures to improve quality of education in the college so that the interest of locals can be protected," Ering said.