Nepal President Bidhya Devi Bhandari has appointed CPN-UML Chairman KP Sharma Oli as the country's next PM. He will be sworn in as the country's 41st PM at 4 pm Thursday.
65-year-old Oli became Nepal's Prime Minister for the second time.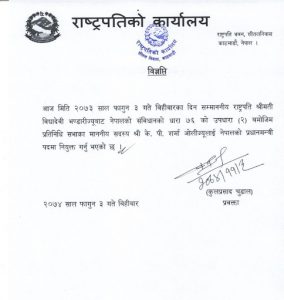 Oli, who is known for his pro-China stance, had served as the country's prime minister from October 11, 2015 to August 3, 2016.
The appointment was made as per the article 76 of the constitution which states in case of no clear majority of any party in the House of Representatives, the President shall appoint as Prime Minister the member of the House of Representatives who can have the majority with the support of two or more political parties represented in the House of Representatives.
Earlier Prime Minister Sher Bahadur Deuba resigned as the executive head opening door for the left alliance to form the new government.
Deuba was elected as the 40th PM on June 6 with the support from CPN (Maoist Centre) which is now a part of left alliance and opting for merger with CPN-UML. "The elections of three tiers of government have been successfully held under my leadership setting the foundation to long transition," PM Deuba told in the television address.
PM Deuba briefly talked on the role played by the incumbent government in the immediate past. He deemed the tenure of his government as a successful one claiming that the government had peacefully conducted elections of the three levels of governance under the new federal structure.
He also expressed gratitude toward the people and media for being supportive to the government and for helping with the success of the tiers of election.
During his speech, Deuba also defended the government's decision to bring down the age limit for old-age allowance from 70 to 65.
Deuba's resignation came in the wake of EC's submission of parliamentary poll results to the President, paving way for the formation of the new government.