The Indian Army on Monday claimed that its mountaineering expedition team had sighted mysterious footprints of the mythical beast 'Yeti' near Makalu Base Camp in Nepal.
The team also claimed that the footprints measured 32×15 inches and has been spotted during an expedition on April 9, 2019.
'Yeti' also known as the 'Abominable Snowman' has been spotted at Makalu Barun National Park in the past, the Army said.
The Indian Army tweeted, "For the first time, an Indian Army Moutaineering Expedition Team has sited Mysterious Footprints of mythical beast 'Yeti' measuring 32×15 inches close to Makalu Base Camp on 09 April 2019. This elusive snowman has only been sighted at Makalu-Barun National Park in the past."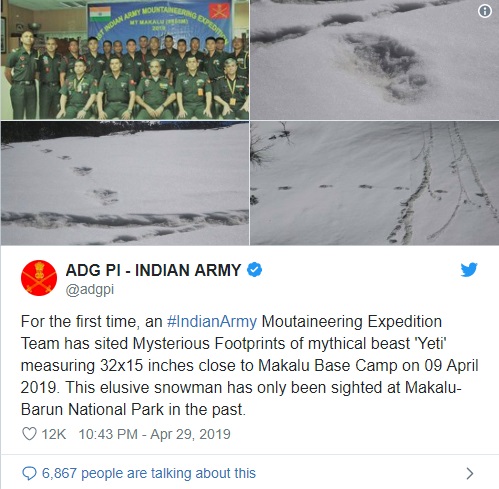 The Army also added that photographic evidence of the mysterious footprints were held by them for 10 days avoiding any remark of mockery or criticism towards the expedition team for claiming to have found evidence of the 'yeti'.
However, the Army later decided to hand over the photographic evidence to the 'subject matter experts' for scientific evaluation as they felt the obtained evidence matched earlier theories regarding the unexplained beast.
Also read: Sikkim: Indian Army officer caught in avalanche dies beneath six feet snow
The Army decided to tweet about the sighting of the mythical beast in order to arouse interest and excite scientific temper.
According to the folk stories of Nepal, the Yeti is an ape like creature taller than an average human being. The Yeti is believed to inhabit the Himalayas, Siberia, Central and East Asia.
Due to the lack of evidence of the creature's existence, the scientific community has generally regarded the Yeti as a legend.
When an English Himalayan mountaineer Eric Shipton took photographs of a large number of mysterious footprints while attempting to scale Mount Everest in 1951, it aroused a huge interest in the mythical creature and drew attention from around the world and its possibility of existence lead to an extensive argument for a long time.