The first COVID-19 patient from Dimapur in Nagaland who was tested positive at Guwahati Medical College is improving.
Nagaland health minister S Pangnyu Phom took to Twitter late Monday night to inform about the health of the first COVID-19 patient in the State.
Also read: Treatment begins for first COVID-19 patient of Nagaland; hospital sealed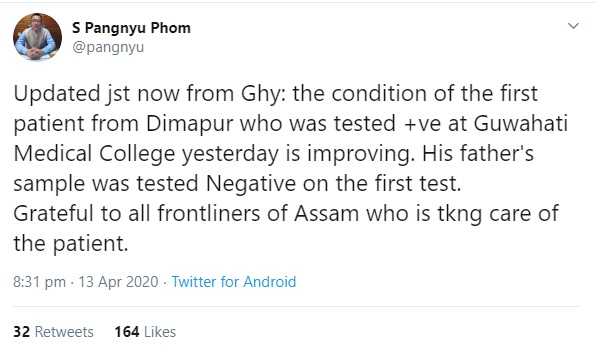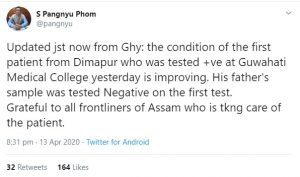 He tweeted:
'Updated jst now from Ghy: the condition of the first patient from Dimapur who was tested +ve at Guwahati Medical College yesterday is improving. His father's sample was tested Negative on the first test.
Grateful to all frontliners of Assam who is tkng care of the patient.'
The patient who was referred from a private hospital at Dimapur, was found positive for COVID-19 in Guwahati Medical College Hospital (GMCH) on Sunday.
This is Nagaland's first COVID-19 positive case.
Also read: Post-confirmation of first COVID19 positive case, Phom wants total lockdown to continue in Nagaland
The COVID-19 positive patient has been undergoing treatment at GMCH.
This has been confirmed by Assam health minister Himanta Biswa Sarma in the latest update on COVID-19 on his Twitter handle.
Health minister Sarma said the private hospital in Dimapur referred the case to GMCH when the patient showed symptoms of COVID-19.