The Indian Medical Association (IMA), Mizoram state branch on Thursday deeply mourn the sudden and untimely death of Dr John L Sailo Ryntathiang.
Dr Sailo, the first COVID-19 victim of Meghalaya, passed away on Wednesday.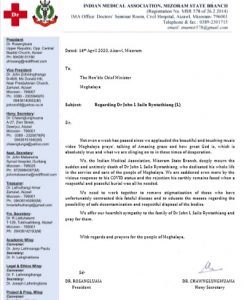 In a letter addressed to Meghalaya chief minister Conrad Sangma, the Mizoram branch of IMA said Dr Sailo dedicated his whole life in the service and care of the people of Meghalaya.
"We are saddened even more by the vicious response to his COVID-19 status and the rejection his earthly remains faced when a respectful and peaceful burial was all he needed," the letter added.
"We need to work together to remove stigmatization of those who have unfortunately contracted this fateful disease and to educate the masses regarding the possibility of safe decontamination and respectful disposal of the bodies," the Mizoram branch of IMA also stated.
The Mizoram branch of IMA through the letter to Sangma also offered their heartfelt sympathy to the family of Dr John L Sailo Ryntathiang.