Three students from Cachar have brought laurels to the district securing position in the merit lists of Higher Secondary Examinations 2019 conducted by the Assam Higher Secondary Education Council (AHSEC).
In the results of the HS Examinations declared on Saturday, Ashim Sarkar of Vivekananda Junior College in Chencoorie Road at Silchar topped the merit list of commerce stream while Brinda Roy of the same college secured 9th position.
In the science stream, Daisy Pathak of the Govt. Boys Higher Secondary School at Silchar has made the district proud securing second position in the merit list.
Also read: Assam HS exam, 2019: Nagaon shines in Science stream with eight positions
After receiving the news, former deputy speaker of Assam Assembly and Silchar MLA Dilip Kumar Paul rushed to the Govt Boys Higher Secondary School, the oldest institution of the region.
Paul also announced that he would provide a sum of Rs 50,000 to Daisy as a reward for her hard work and attaining the position.
Talking to Northeast Now, MLA Paul said, "I had it all along my mind to offer such reward to any meritorious student of any government-run school attaining a position, be it in matriculation exams or the HS exams. Not only that, I would also give a sum of Rs 1 lakh to that government-run school, in my constituency, if it achieves 100 per cent pass percentage, in the matriculation exams, irrespective of any division."
Daisy Pathak, who was scheduled to sit for a medical entrance test (AIIMS) on the same day when the results were declared, told Northeast Now, "I want to become a doctor and I have been preparing for the test."
"I knew that my examination was quite satisfactory and could get 9th or 10th position, but never expected that I would be able to get the 2nd position," said Daisy.
A soft-spoken Ashim Sarkar, who secured the 1st position in commerce stream, was very clear in his thoughts.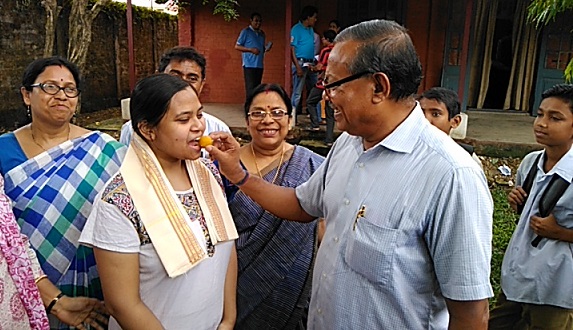 "I knew I would get some position but 1st position throughout the state is something which my parents and my institution would cherish for a long time," said Sarkar.
Informing that he will stay in Silchar, Ashim said he wants to be a teacher and get employed in Vivekananda Junior College.
"I want to pass on the knowledge that my teachers have taught me and shaped up my academic skills to other students," said Ashim.
A student, who kept the television 'on' till 2 am to keep herself awake and study at the same time, is Brinda Roy, who secured the 9th position in commerce steam.
Painting is her hobby, but having seen her father, who is into sales, doing all the accountancy stuff, drove her to take commerce as her line of study.
Speaking to Northeast Now, Brinda said, "I keep the television on as it keeps my senses alive. I love painting and singing too. For now, after completing my B.Com, I plan to do MBA and look for a career in banking."