Tezpur parliamentarian Ram Prasad Sarmah on Saturday morning has finally announced his resignation from the Bharatiya Janata Party.
The BJP parliamentarian announced his formal resignation from the saffron party through social media.
The parliamentarian has cited possible denial of party ticket for the ensuing Lok Sabha election as the reason for his resignation from the primary membership of the party.
Sarmah in a Facebook post has written that he has resigned from the primary membership of the party after serving the BJP for 29 years and dedicatedly working for the RSS and the Vishwa Hindu Parishad.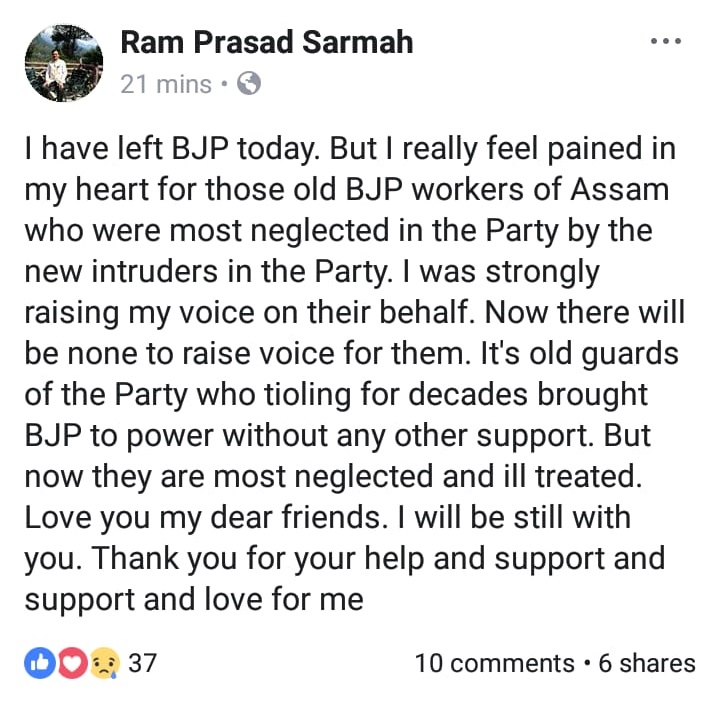 He also said that he felt insulted as his name which was in the panel as a sitting MP and president of Assam Gorkha Sanmilan was not considered for the party ticket.
He further wrote that he would continue to work for the people of his constituency till his last breath.
He also said that a formal announcement regarding his resignation from the BJP will be made during a press conference at his MP quarter – 164 North Avenue at 12 noon.
Sarmah who had been a BJP and RSS member for a long time was unlikely to get the party ticket this time. Although the BJP is yet to declare the list of candidates for Assam, sources in the party said that the party leadership are contemplating to put up state finance minister Himanta Biswa Sarma in the constituency this time.
While there were strong anti incumbency factor against him in the constituency, the Lok Sabha MP also got entangled in some controversies  including the multi crore cash for job scam in Assam that also landed one of his daughters in jail.
"I have left BJP today. But I really feel deep pain in my heart for those old BJP workers who are most neglected now by the New intruders of the party. I was strongly raising my voice for their behalf. But now there will be none to raise voice for them," said Sarmah on his FB post.