What began as a project to mainstream women in agriculture has turned out to be an environment conservation success story at the Borfoidia Gohain Gaon at Lahdoigarh in Jorhat district of Assam.
In 2011, Borfoidia Gohain Gaon along with 20 other such villages under four blocks of the district were selected by principal investigator Manju  Dutta Das for launching of vermicompost schemes  as part of the project  for  gender mainstreaming  in agriculture under Directorate of Research on Women in Agriculture with Assam Agricultural University here as one of its partner universities.
Manju Dutta Das, professor and head of the department of Extension, College of Community Science, then College of Home Science under Assam Agricultural University said that she had started off with nine odd women in the Borfoidia Gohain Gaon, who were organized into a self help group.
"Today, seven years later I can take pride in saying that 70 per cent of the agricultural cultivation, whether paddy, tea or horticultural crops is being done here in an organic mode," she said.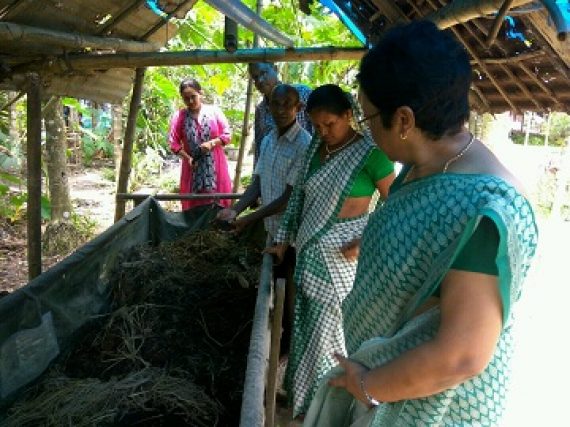 Dutta Das attributes the success to constant monitoring, and coordination with the people of the village as well as the untiring efforts of the panchayat resource woman in prodding and inspiring the villagers to take to vermicomposting
The scheme was in the public private partnership mode and Dutta Das had to select an NGO which would help in implementation as well as the beneficiaries to be trained in batches.
The first batch of 100 farmers both men and women were taught about the adverse effects of chemical fertilizers and pesticides, soil degradation, etc.
The second training was to do with the scientific methods of making the pits, how to procure the earthworm and the right materials to be put in the pits which could be made into compost by the earthworms.
The Agronomy Department of the Assam Agricultural University was involved in the training programmes.
"Initially we faced a lot of difficulty as the one kilogram earthworms required a cost of Rs 2500 and was very costly and nowhere to be found.
Secondly making a segregated cement tank of three feet deep, three feet wide and at least 12 feet long for the agri waste to be put in was also a very costly affair.  We got about 10 readymade ones from the state government's District Agriculture Department and others were innovated by the villagers, themselves.
A quick tour of the village shows that the villagers have come up with bamboo structures covered by a tin or plastic sheet.  Some have just dumped cow dung and agri waste together in a heap on the ground and covered it with palm leaves.  Khagen Baruah, who has done so said that the earthworms in that heap were proliferating and producing some of the best vermicompost in that village.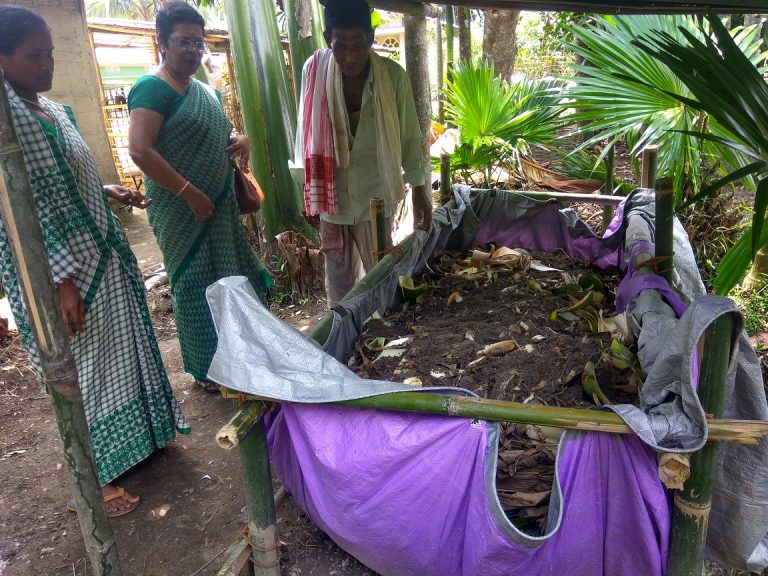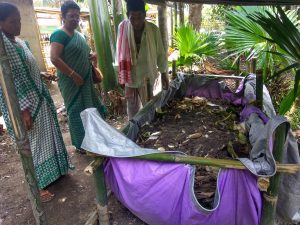 The panchayat community resource woman, Sipahikhola block under National Rural Livelihood Mission, Binita Borgohain said that she often held meetings with the different groups and slowly but surely organic farming was expanding not only in that village but in neighbouring villages as well.
"We are very happy that most our produces are organic.  They are so good to eat that they get sold out sometimes on the way to the market, "she said.
Puna Ram Borgohain,  a small tea growers said that earlier he had spent about Rs 20,000 to Rs 30,000 on chemical fertilizers and pesticides but after he had converted to organic by using vermicompost and vermi wash, not only had his soil nutrients been replenished but his bushes had become lush and were also less attacked by pests.
"As I am using almost no pesticide, my health has also become better in the past few years," he said attributing some nerve problem in his leg to inhaling the toxic pesticides and chemical fertilizers.
This year the neighbouring Deha tea estate which is part organic and had made a record in the Gauhati tea auction sale of organic tea a couple of years ago,  is accessing green leaves from Punaram's garden.
Durno Bogohain, the panchayat president also said that he was slowly converting to organic.
Das is still conducting surveys in the village till it could be declared as a chemical free village and farm women economically empowered.
"With the Centre declaring the Northeast as an organic zone for agriculture this endeavour is now all the more relevant." she said.
The Northeast has a shortfall of 4000 to 5000 tonne of bio fertilizer and bio pesticides.