Nature is unleashing wrath in Mizoram with unabated downpour for last 60-hours resulting in floods, multiple landslides and blocked highways.
The two national highways and other state highways linking Aizawl and the second capital city of Lunglei have been blocked by landslides at multiple locations
While efforts are on to clear the landslides, but weather conditions are causing hindrances to the operations.
The older national highway is blocked by landslides at Hnahthial village in Lunglei district and the main World Bank road is being blocked at Ramlaitui village in Lunglei district.
The incessant downpour has also created panic at Sairang village, 30 kilometres from Aizawl.
The waters of Tlawng river are rising at a menacing rate even as the locals are apprehensive that the water level would soon cross the danger level.
"About 20 houses are vacated and more than ten houses have been already submerged by the flood. The local Young Mizo Association has been keeping vigil but nothing much can be done unless the rains stopped," Lalhmangaiha, a local activist and villager from Sairang said.
"People here are already panic struck as they are haunted by last year's devastating flood and are apprehensive of a repeat," Lalhmangaiha added.
In the capital city of Aizawl, minor landslides can be seen in almost every locality.
However, fortunately no casualty has been reported so far. A house collapsed early Tuesday morning at Nursery locality with the residents suffering only minor injuries.
The major highway linking Aizawl and Lengpui Airport is also blocked by a huge landslide at Hunthar locality in southern Aizawl.
All traffic are diverted to an alternate Sakawrtuichhun road.
The southern Tuipui river also reached the danger level and has already submerged 10 houses at Tlabung village in Lunglei district.
Another 20 houses have to be evacuated fearing the rising waters would soon submerge these houses.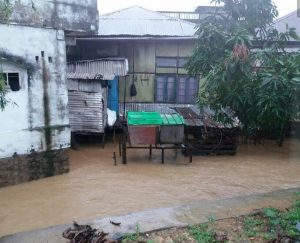 "The situation here is grim, the water level is rising like anything, with the continuous downpour. All we can do at the moment is evacuate," Tlabung SDPO K Beihmotaosa said.
Elsewhere around Mizoram, several parts of Thenzawl town are submerged by the rising waters of Lau river and most parts of Borai village are also submerged in southern Mizoram.
The main water reservoir that feed Aizawl city is also submerged by the rising Tlawng river and the PHE department officials have stated that several pumping machines were being re-located and that water supply could be disrupted in the coming days.