In a bizarre incident within 48 hours of the Tripura Assembly election results, Bharatiya Janata Party (BJP) workers and supporters brought down a statue of Communist icon Lenin with the help of a JCB amid cries of 'Bharat Mata ki Jai'
The statue of Communist revolutionary Vladimir Ilyich Ulyanov, better known as Lenin, was brought down on Monday by alleged BJP supporters using a JCB celebrating the victory of the saffron party that had won 35 seats in the Assembly elections, results of which were declared on Saturday.
BJP had won 35 seats in the elections as against zero just five years back.
The 25-year Left Front rule came to an end in the State with Manik Sarkar stepping down as Chief Minister on Sunday last.
The BJP is all set to form the next government in the State along with its ally, the Indigenous People's Front of Tripura (IPFT).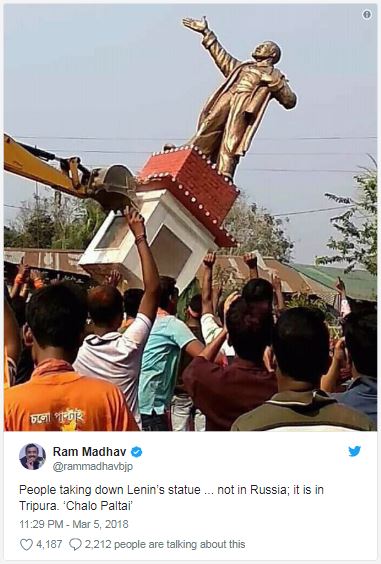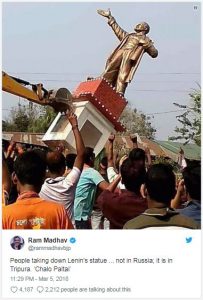 State BJP president Biplab Kumar Deb is set to lead the Cabinet as the Chief Minister.
Prime Minister Narendra Modi and several top BJP leaders are expected to attend the ceremonial oath taking of the new ministers on Thursday next.
The statue stood at the centre of College Square in the heart of Belonia town in South Tripura.
Notably, a photograph of the incident was shared by BJP national general secretary Ram Madhav on Twitter, who wrote, "People taking down Lenin's statue … not in Russia; it is in Tripura. 'Chalo Paltai' (sic)."
Ram Madhav, however, later deleted the tweet.