The annual boat race of Tripura was flagged off on Monday by Tripura Chief Minister Biplab Kumar Deb in Melaghar which apart from being a major tourist attraction for the Neermahal in mid of the Rudrasagar Lake, is also venue for yet another splendid, unparalleled attraction in the region.
The boat race is an event that is as much part of the local fisherman community ethos and is a sport that signifies the excellent team spirit, integration and amity of the people.
Krishnadhan Das, a participant in the boat race said, "Here boats of various sizes like six-to-nine seaters, five-to-seven seaters for women, long snake boats, etc. take part in the competition and all are from those families around the Rudrasagar Lake and dependent on it for their livelihood."
It is an occasion of great excitements that reflects a vibrant people. Both men and women with scores of long snake boats and other smaller crafts participate in the events.
The boat race is one of the popular festivals which also attract the tourists.
Tapata Das, a visitor said, "I am a regular visitor to the boat race, which has been organised for more than 50 years and various competitions like swimming and boat race and for which a large number of people come here. Competition of various ages and sizes of boats takes place in which mainly fishermen participate and the tourism department looks after it."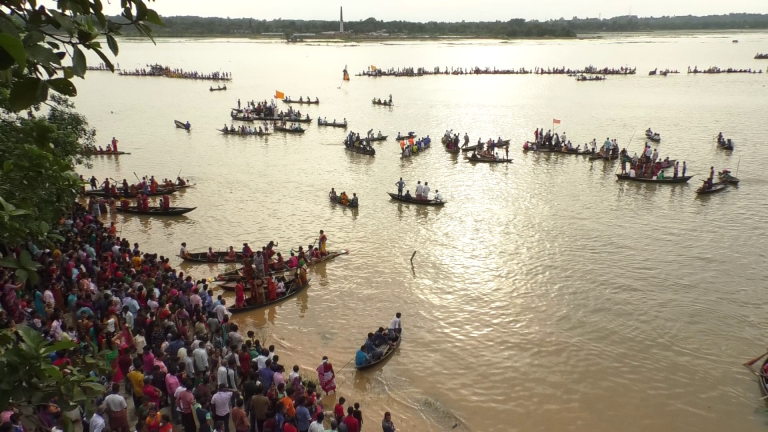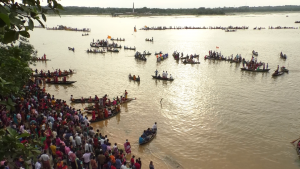 Thousand others like her from not only the state but also from neighboring states gathered here to enjoy the race.
The race is organized by the Information Cultural Affairs & Tourism Department and the local fishermen community.
Along with the Chief Minister, State Tourism Minister Pranojit Singha Roy and other MLAs were also present there.
CM Deb said that the Neermahal palace is one of the prime spots in the State which attracts a large number of tourists and the annual boat race added to that.
Deb announced that to further add to the tourist attraction the State Government would supply 50,000 white ducklings which would not only add to the income of the fishermen community there but will also help the State towards egg self-sufficiency.
Meantime, Jaharlal Das, a participant from a victory team said, "This is going on since our forefather's time and there is prize money. This year our team achieved victory and the previous year also was our team was victorious. We have enjoyed and danced as we are the winners. There is no fight between us and this time the victory money is more."
The water carnivals erupt every year in a dramatic spectacle and hold tens of thousands of people spell-bound, cheering the action, laying bets, goading the boatmen to row faster.