Tripura Chief Minister Biplab Kumar Deb is one of the special invitees to the mega programme to unveil the 'statue of unity' dedicated to legendary freedom fighter, independent India's first Home Minister and unifier of India Sardar Ballavbhai Patel.
This statue, highest in the world till now, is made of 18,500 tons of steel on the bank of the famous Sardar Sarovar dam of Gujrat as the symbol of Indian unity.
Prime Minister Narendra Modi, who had initiated the construction of the statue during his tenure as Gujarat Chief Minister, will formally inaugurate the statue.
All chief ministers of BJP-ruled states including Biplab Kumar Deb have been invited to the programme on October 31 next which is the 144th birth anniversary of Sardar.
Meanwhile, the Congress is crying foul alleging a 'planned move to disrupt the death anniversary of former Prime Minister Indira Gandhi'.
Sardar Ballavbhai Patel was born in the year 1875 and passed away in 1950, the year India became a republic.
He was instrumental in bringing together all the native kingdoms to unify India after Independence.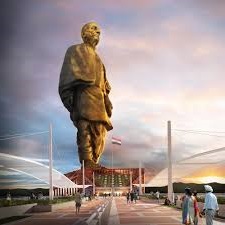 This statue of Unity will occupy over 20,000 square meters, and will be surrounded by a 12 square km artificial lake.
It is the world's tallest statue with a height of 182 metres or 597 feet.
Initially the total cost of the project was estimated to be about Rs 3,001 crore by the Indian government.
Later Larsen & Toubro won the contract in October 2014 for its lowest bid of Rs 2,989 crore for the design, construction and maintenance.
The construction was started on October 31 in 2013.
The construction of statue was completed in mid-October this year.