Incessant rainfall since last Sunday triggered landslides causing damages to roads, private and public properties in North Sikkim. Multiple landslides have been reported in Dzongu, Mangan, Lachen, Mangshilla and other areas of North Sikkim.
North District has been cut off from the rest of the state due to landslide at Ambithang near North District headquarter Mangan. The road between Mangan to Chungthang remains cut off after the bridge was washed away at Rafong Khola. Damages at several points on the Mangan-Chungthang road have also been reported.
A new bailey bridge near Toong has also been damaged and road network in Dzongu has been disrupted at multiple places with major landslides. Entire areas of Upper Dzongu have been snapped due to landslides near Mantam Lake.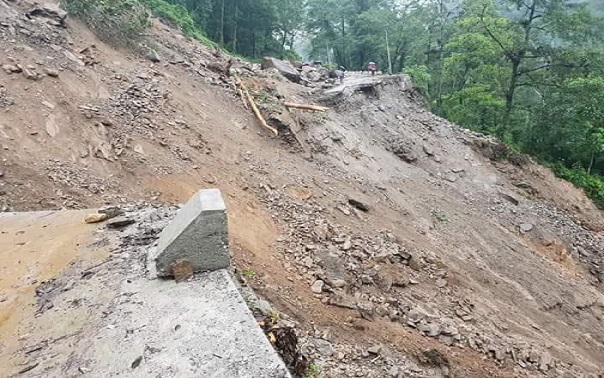 North District Administration is continually monitoring the situation to provide relief and rescue measures. Schools in North District were closed on Friday to ensure the safety of the students. The administration is also coordinating with the Power Projects and monitoring the situation round the clock. The Border Roads Organization is working on restoration of the road network in the district.
Sikkim Minister for Forest, Environment and Wildlife Management Department TW Lepcha, who represents Lachen-Mangan constituency and Deputy Speaker of the Sikkim Legislative Assembly Sonam Gyatso Lepcha undertook a tour of the affected areas in and around Mangan with the district collector North, DFO North and other officials of the district.
The inspection team visited the Rafong Khola landslide spot where a log bridge has been constructed by the Forest Department for the transshipment of public.
The team also visited the Lanthey Khola area where the road has been completely damaged by the huge landslide and streams are flowing in full spate bringing down boulders and causing landslips that cut off the road network. The team also visited the landslide zone at lower Mangan Bazaar where many houses were damaged.
A meeting to review the situation in the district was also held in the office of the District Collector, North, Karma R Bonpo who briefed on the status of damages reported from across the district. The electricity connection to Dzongu is being restored by Energy & Power Department and the water supply to Mangan town is being restored by PHE Department. The revenue department along with other line department is carrying out the assessment of the damages to various public properties in the district.
Due to the heavy rains in the district, the road network in the district has been badly affected. The Mangan Chungthang roads have been affected by many slips and it is expected to take about a month to restore the road for vehicular traffic. The landslides across the district have damaged about fifty houses some of which have been damaged severely. Many schools have been damaged due to which the administration has ordered the closure of the schools till Sunday.