Assam's lyricist and script-writer Rajdweep has won the fourth best award at the first edition of the Cinestaan India's Storytellers Contest which was announced on Monday by Aamir Khan in Mumbai.
Aamir was the jury member of the contest along with writer-director Rajkumar Hirani and screenwriters Anjum Rajabali and Juhi Chaturvedi.
"It's a great moment for me to receive the award from none other than Aamir Khan. I have been a big fan of Aamir Khan. Prior to this I never been to Mumbai and I always had the believe that I will come to Mumbai when the city would call me. I'm happy that it happened that way," said Rajdweep. He received Rs four lakh.
The contest witnessed entries from more than 3,500 aspiring screenwriters from across India. The total prize amount was Rs 50 lakh.
Speaking about the response the contest received, Rohit Khattar, chairman of Cinestaan Digital Pvt Ltd said, "We are delighted by the overwhelming response by the contestants and so grateful for the commitment shown by our eminent jury members. This year, the box office has shown that well-written films are getting the audiences back to the theatres. With this contest, we are trying to ensure that the film industry is never short on good writing or good writers and the spotlight is put on deserving talent through this contest and our script bank".
Not only the winners received their cash prizes, they will also get an opportunity to pitch their scripts to studios and production houses.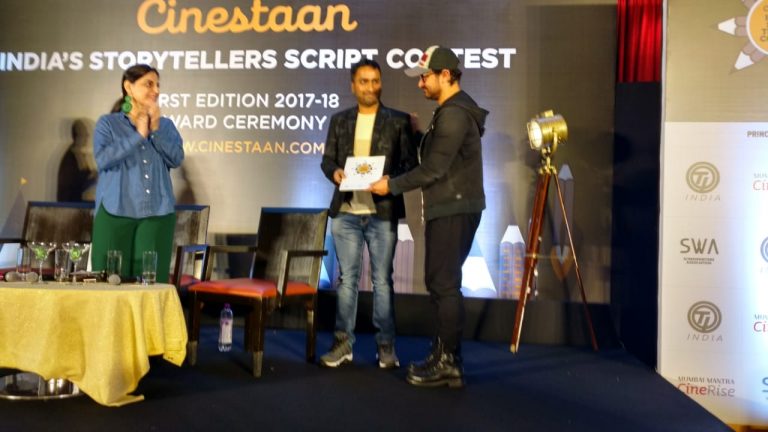 Cinestaan India's Storytellers Contest, launched by Cinestaan Digital Pvt Ltd, is India's biggest script contest to date.
Apart from cash prizes worth Rs 50 lakh, some of the best scripts shall be included in the Cinestaan Script Bank – a treasure trove that studios and production houses can delve into and directly liaise with the selected writers, who often find it difficult to get their work across.
Rajdweep who made his debut as a script-writer with 'Khel – the Game', an Assamese moveby Ashok Kumar Bishoya in 2015. He has also penned a number of scripts for popular plays which have been staged across the State in various theatres.
He has also already written songs for Konkona Sensarma directed 'A Death in the Gunj' and 'Jagga Jasoos' of Anurag Basu.