A day after a Supreme Court lawyer lodged a complaint with national child rights panel against Assam singer Angarag Papon Mahanta for 'inappropriately kissing' a minor girl, the Assam State Commission for Protection of Child Rights (ASCPCR) has decided to take suo motu cognizance of the case.
"I have watched the video which has gone viral on social media and found the behaviour of the singer inappropriate. We have decided to take a suo motu cognizance of the incident," APCPRC Chairman Sunita Changkakati told Northeast Now on Friday.
Supreme Court lawyer Runa Bhuyan on Thursday filed a complaint    with National Commission for Protection of Child Rights (NCPCR) against Papon after the video showing the singer 'inappropriately kissing' a minor girl went viral on social media.
Papon, in the video, was seen smeared colour on the girl's face and kissed her. After this, he was seen asking his team members to end the video.
Also read: SC lawyer files complaint against singer Papon for 'inappropriately kissing' minor girl
While initially the outrage against Papon was limited in Assam, now it has spread across the nation. The #Papon is presently trending on twitter. Many people including well known personalities like BJP MP Subhramaniam Swamy have attacked Papon for literally forcing himself on the girl.
Incorrectly writing Papon's name as Popon, Swamy tweeted, "Paapi Popon can be prosecuted for rape. Under POCSO, even touching an under 18 yr girl is rape."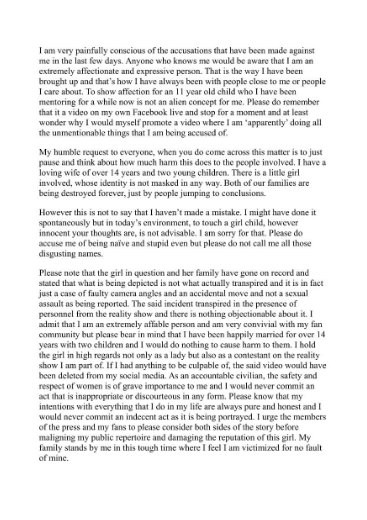 Meanwhile, an official reaction has been issued by & TV which airs the show 'Voice of India Kids' where Papon is a mentor.
The statement from the channel read, "We as a channel have always been focused on the safety, security and well-being of the contestants participating in our shows. We have always adhered to the NCPCR guidelines and our production house, Essel Vision Productions Limited has taken all precautionary measures required under NCPCR and other laws."
"We believe in nurturing talent with utmost sensitivity and care while we provide them the platform to showcase their aptitude. As a responsible channel, we are extending complete support to all parties who are impacted by this incident and will stand by them to help them through this situation," it added.
Meanwhile, Papon in a statement, which was uploaded on his Tweeter handle @paponmusic , has tendered apology over the incident.
"… this is not to say that I haven't made a mistake. I might have done it spontaneously but in today's environment, to touch a girl child, however innocent your thoughts are, is not advisable. I am sorry for that. Please do accuse me of being naïve and stupid even but please do not call me all those disgusting names," Papon said in the statement.